First E85 Station Opened in Louisiana
A grand opening celebration was held today for the first retail E85 station in the state of Louisiana. Motorists traveling along the busy I-10 corridor in Southwestern Louisiana can fill up their tank with the cleaner, home grown fuel. The Pumpelly Oil station is located at 1890 Swisco Rd. in Sulphur.

"Southwest Louisiana is positioned to be a leader in developing new, clean, and efficient fuels, and I am proud that our state's first E85 ethanol station is located in Sulphur," said U.S. Representative Charles W. Boustany, Jr. "This station represents the first of many more to come."
This E85 fueling facility is a partnership between CleanFUEL Distribution, a joint venture between CleanFUEL USA and Protec Fuel Management, and Pumpelly Oil. CleanFUEL USA manufactured the dispenser, CleanFUEL Distribution is providing the fuel, and Pumpelly Oil owns the station offering the service.
"This is something that's good for the environment and promotes cleaner air for our state," said Glenn Pumpelly, president of Pumpelly Oil. "We look forward to continued work with CleanFUEL USA and CleanFUEL Distribution to be a solution provider for people who want to use not only ethanol but also biodiesel and propane."
Ethanol feedstocks are currently comprised primarily of Midwestern corn. An increasing amount of corn and sugar cane produced by our farming community will be a source for local ethanol production. "Louisiana indigenous coastal grasses and forest products can also provide a cellulosic derived supply for the increasing demand for ethanol. This station and others to follow can be supplied by ethanol produced by our local farmers that will in turn power the increasing number of vehicles operating in our state," says Rick Richard, chairman of CleanFUEL USA.
CleanFUEL Distribution will also work to create a reliable, affordable distribution network for ethanol and other alternative fuels throughout the state of Louisiana by supplying other fueling stations and fleets such alternative fuels as E10, biodiesel and propane.
"Our country must become less dependent on foreign oil," said Rick Richard. "We know this partnership will make the local economy more robust by creating jobs and offering people the option to make better environmental choices. We also look forward to expanding this service beyond Southwestern Louisiana to other parts of the state."
Louisiana fleets and retailers will now have access to CleanFUEL Distribution's complete turnkey services for station design, site development, equipment specifications and marketing services to increase alternative-fuel sales volumes at their fueling sites.
"We are pleased to finally see E85 in the state of Louisiana," stated Phil Lampert, executive director of the NEVC. "We commend the collaborative efforts of our members CleanFUEL USA and Protec Fuel Management for their great achievement."
There are only nine remaining U.S. states without a publicly accessible E85 station. For a complete listing of all E85 stations across the U.S. go to www.e85refueling.com.
-30-
Featured Product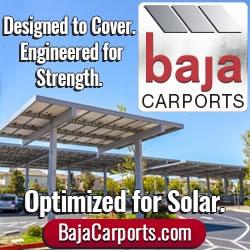 Baja Carports offers an extensive solar support system product line customized to customers' site specifications by in-house engineers, meeting their parking lot coverage, plus optimal PV production needs. Baja's Full Cantilever Tee is often paired with its Semi and Full Cantilever carports to meet live/loads up to 60psf and wind speeds to 160mph. All Baja products are pre-fabricated, bolted connections, pre-galvanized structural steel for fast on-site installation and project aesthetic requirements."