Global Leader in Solar Technology Launches New Inverter and Marketing Services Package for Solar Professionals
GRASS VALLEY, Calif., Aug. 31, 2007—SMA America, Inc., the United States division of global solar technology giant SMA Technologie AG, will be attending the Solar Power 2007 conference, scheduled Sept. 24-27 in Long Beach, Calif. In addition to exhibiting its current line of innovative solar inverters, SMA America also plans to unveil two new products. A brand new inverter will make its debut, as will the innovative Sunny PRO Club, a dynamic marketing services package available exclusively to solar professionals who sell and install SMA products.

Attendees will also have the opportunity to preview two new inverters and a new wireless system monitor, available in early 2008.
"We are very excited about attending the Solar Power 2007 conference," said SMA America, Inc. President Pierre-Pascal Urbon. "As a pioneer in the domain of solar technology and the current world leader in inverter technology, SMA is looking forward to presenting our fantastic new products among a group of knowledgeable, forward-thinking participants."
Solar Power 2007 will feature more than 200 solar exhibitors, including manufacturers, installers, and investors. There will be 125 guest speakers at the conference and 10,000 attendees from both inside and outside the dynamic and rapidly-expanding solar industry.
WHO: SMA America, Inc.
WHAT: Solar Power 2007 Conference, America's
largest solar event
WHEN: Monday, Sept. 24 - Thursday, Sept. 27
WHERE: Long Beach Convention Center, Booth
#130
WHY: Solar technology giant, SMA America, will
unveil two new products:
The Sunny Island 5048U battery inverter
and the Sunny PRO Club membership
package
About SMA America, Inc.
SMA America, Inc. is a proud part of the worldwide SMA family of companies, with divisions in nine countries on four continents, boasting over 1,300 employees, and continuous double-digit growth. SMA America supports installers and small businesses in the solar industry through marketing and training assistance. Since 2000, SMA America has shown unfaltering commitment to the continued development and implementation of leading-edge products, including some of the most efficient solar inverters available nationwide.
# # #
Featured Product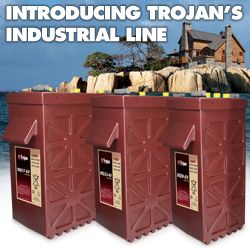 Trojan's deep-cycle batteries provide rugged durability, outstanding performance and long life for use in all types of solar energy installations. With over 90 years of experience, Trojan delivers the world's most reliable and trusted batteries in flooded, AGM, Gel, and Lithium types. These batteries enable solar equipment systems to operate at a peak level of performance in the harshest conditions or the most challenging of locations and are manufactured and tested to IEC standards.