On Friday, September 14 MIT's Solar Decathlon Team, Solar 7, will officially unveil and publicly turn on their Zero Energy Home. A grand opening ceremony will begin at 2:00 p.m. on the corner of Portland and Albany Streets in Cambridge, Mass.
Contact:

Arlis Reynolds
(949) 394-4404
arlis@mit.edu
Solar 7 Powers Up "Zero Energy Home" and Holds Public Tours This Friday at MIT
Zero Energy Home to Compete in Department of Energy's 2007 Solar Decathlon Next Month in Washington, D.C.
Who and What
This Friday, Solar 7 will turn on the solar power to their Zero Energy Home. The home, designed by a team of engineering students attending MIT, is unique because it provides energy and heating/cooling needs directly from solar power without using fuel, or from the power grid. This is the first home in Cambridge that will officially be 'off the grid', meaning the home derives its power from both solar thermal energy as well as solar electric energy from photovoltaic panels mounted on top of the structure and thermal collectors on the front; providing a glimpse as to how future homes could operate. Some of the unique features of the Zero Energy Home include:
•The latest in solar panels
•Radiant thermal subflooring
•An award-winning KitchenAid kitchen suite and Whirlpool washer and dryer pair
•Hunter Douglas warm light wall system featuring Cabot Nanogel Aerogel
When and Where
The Solar 7 Team is hosting the grand opening of their house this Friday and is offering public tours
Date: Friday, September 14
Time: Powering Up Ceremony will be at 2:00 p.m. with public tours kicking off right after from 3:00 p.m. to 5:00 p.m.
Location: Corner of Albany and Portland Streets, Cambridge
Public tours will be offered on Saturday, September 15 and Sunday, September 16 from 3:00 p.m. to 5:00 p.m. as well.
Why
The goal of Solar 7's home is to showcase the attractiveness and affordability of a solar home to the average consumer while empowering each citizen to positively impact society by providing non-intrusive but pervasive means to monitor energy usage within the home and its related environment.
About Solar 7
The Solar 7 Team consists of both graduate and undergraduate students, as well as a group of professional advisors and community volunteers. The home is being built on the corner of Albany and Portland Streets in Cambridge, Mass. To learn more about the Solar 7 Zero Energy Home, or to become a sponsor, go to http://solar7.mit.edu.
About the Solar Decathlon
The 2007 Competition takes place October 12 through October 20 at the National Mall in Washington, DC. During that time, all 20 competing homes will be open for public tours from 10 a.m. to 5 p.m. weekends and 11 a.m. to 3 p.m. weekdays. For more information about the international DOE Solar Decathlon, please visit http://www.solardecathlon.com.
###
Featured Product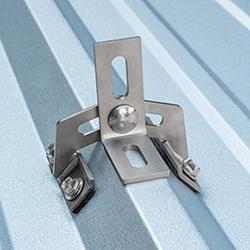 QuickBOLT Low Profile QuickBOLT with Microflashing™ is the industry's affordable, UL Certified Asphalt Shingle mounting system. The Microflashing™ is compressed by the collar on the bolt to create a water-tight seal. With an installation time of less than one minute, the Low Profile QuickBOLT allows installers to complete more jobs.