water powered window washing system easily applicable to solar panels or solar skin.
Hello, my name is Sam Gold with KlearvieW Systems. I'd like to take a moment to inform you about my patented green building technology. It's the first and only hydraulic window washing system that can be integrated onto almost any commercial structure containing glass or solar skin manually cleaned or easily retrofitted to high end residential windows, skylights, or solar panels with no view inhabitance for either application.(Ideal for solar panels in a coastal envirenment or residential towers)

The system is comprised of a brush bar with attached squeegee that is driven hydraulically up and down an elliptical track (to maximize downward squeegee pressure). The brush scrubs, the wiper dries, and the same water that powers the system is rinsing the Panel in co-op with the brushes scrub. Any excess water can be captured and reused as landscape irrigation for the structures surrounding vegetation.(this would be most practical on a commercial application) This way, absolutely NO water is wasted and the KlearvieW System is serving as a self sustaining ecosystem by utilizing one resource to simultaneously serve three functions as well as completely eliminating the time, labor and costs associated with manually washing logistically hard to reach solar panels!
Please visit the web adress listed below for more detailed information including Public Patent Literature, marketing information and ideas, and most importantly a Demonstration of our working design concept cleaning a window. Please contact me directly at the number listed below for a business plan including professionally assessed pricing and complete CAD drawings for a fixed picture system, or with any questions or concerns regarding the KlearvieW System. Thank you very much for you time and I look forward to hearing from you soon!
Sam Gold
Marketing Executive
KlearvieW Systems
1-503-412-9835
Featured Product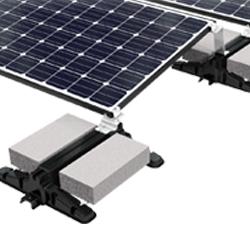 The Power Rail™ Commercial Mounting System is designed with the professional PV solar installer in mind. Both the XD/UD and LD/MD rails feature single tool assembly with the revolutionary patented RAD™ Lock-in-Place bolt for fast and secure module clamping. The high strength marine-grade aluminum rails include an integral wiring channel for securing cables and providing a professional finish.