SunPower operates Solaron' grid-tie, photovoltaic inverters with 97 percent (CEC-weighted (California Energy Commission) efficiency rating Northern California installations generate more than 300 kWp of clean, AC power per commercial site
FORT COLLINS, Colo., Sept. 18, 2007—Advanced Energy® Industries, Inc. (NasdaqGM: AEIS) today announced that SunPower Corp., Systems, a SunPower Corp. subsidiary which focuses on large commercial installations and retail projects, has installed and operated AE Solaron' grid-tie, photovoltaic (PV) inverters at two commercial sites in Northern California since July 2007. Each site is capable of generating over 300 kWp of clean, AC power, with no harmful emissions of carbon dioxide, nitrogen oxide or sulfur dioxide. By avoiding fossil-fuel power generation, it is estimated that each site will eliminate the equivalent of 230 tons of harmful CO2 emissions each year.(1)

Up-front capital investments required for commercial installations are a major factor for integrators and independent power producers to consider. With AE's advanced grid-tie inverter, integrators can see substantial return on their inverter investment alone—because these installations can produce targeted output power levels with fewer solar modules, thus lowering balance-of-system (BoS) costs more than was previously possible. Moreover, the platform is designed for ease of integration, unmonitored operation and minimal maintenance over years of service.
"We are impressed with the efficiency and ease of installation that we've experienced with Advanced Energy's inverters since first commissioning their product earlier this year," said Daniel Shugar, president of SunPower Corp., Systems. "We look forward to a successful relationship as we continue to assess their offering."
President and CEO of Advanced Energy Industries, Inc., Dr. Hans Betz, noted, "It has been a pleasure working with SunPower to provide them with our advanced grid-tie inverters. Environmentally conscious customers, such as those serviced by SunPower, benefit from the financial, reliability and sustainability advantages of our technology. In this high-growth market, we are well positioned with our technology and service infrastructure."
Solaron' 333 kW PV Inverter
Designed for the North American market, the first model of the Solaron platform offers a durable, transformerless, grid-tie design, converting raw DC power from solar-cell arrays to high-quality AC-grid electricity. With its robust controls and patented, soft-switching technology, the Solaron inverter achieves breakthrough 97 percent CEC efficiency and is NRTL-certified to UL 1741. A wide MPP (maximum power point) tracking window ensures maximum, day-long processing power. Both local and remote data access enables operators to monitor the system's remarkably high performance and reliability—from anywhere at anytime.
To learn more about AE's new Solaron line of PV inverters, visit www.aei.com/inverters.
About Advanced Energy
Advanced Energy is a global leader in innovative power and control technologies for high-growth, thin-film manufacturing and solar power generation. Specifically, AE targets semiconductors, solar cells, flat panel displays, data storage products, architectural glass, solar grid-tie inverters and other advanced applications.
AE's product portfolio includes precise, flexible power systems; reliable gas and liquid flow-management systems; accurate thermal instruments; and global support services. Leveraging this focused product portfolio and technology leadership, AE creates solutions aimed at maximizing process impact, improving productivity and lowering cost of ownership for its customers, including original equipment manufacturers (OEMs) and end-users around the world.
AE operates in regional centers in North America, Asia and Europe and offers global sales and support through direct offices, representatives and distributors. Founded in 1981, AE is a publicly held company traded on Nasdaq Global Market under the symbol AEIS. For more information, go to www.advanced-energy.com.
# # #
Advanced Energy®, AE® and Solaron' are trademarks of Advanced Energy Industries, Inc.
SunPower® and SunPower Corp., Systems' are trademarks of Sun Power Corporation.
(1) kWh calculated according to the U.S. Department of Energy's Office of Energy Efficiency and Renewable Energy formula. Equivalent tons of CO2 calculated with the U.S. Department of Energy's adjusted electricity emissions factor.
Featured Product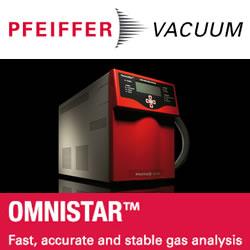 The Pfeiffer Vacuum OmniStar benchtop analysis system offers you a compact footprint, powerful software and Ethernet connectivity. It's the optimum solution for many real-time gas analysis applications. With the OmniStar, Pfeiffer Vacuum offers you a complete solution for gas analysis, in chemical processes, semiconductor industry, metallurgy, fermentation, catalysis, laser technology and environmental analysis. The turnkey OmniStar gas analysis system consists of heated, temperature-regulated gas inlet system, Quadrupole mass spectrometer, a dry diaphragm vacuum pump and HiPace turbopump. Unlike competing methods such as FTIR, OmniStar is suitable for qualitative and quantitative analysis of most gases.