SCHOTT Solar Plans To Expand U.S. Solar PV Production by more than 60 MW. Company sees growing demand for both its photovoltaic and concentrated solar power technologies
SCHOTT Solar Plans To Expand U.S. Solar PV Production by more than 60 MW

Company sees growing demand for both its photovoltaic and concentrated solar power technologies
September 18, 2007 (Roseville, CA) - SCHOTT Solar made a major commitment to the U.S. solar power market today, as it announced plans to build a new photovoltaic (PV) manufacturing facility that will increase its domestic PV production by more than 60 MW. SCHOTT Solar is currently evaluating locations for the new facility, which is scheduled to go online in 2009.
In addition to producing solar PV modules, the new facility will be designed to produce receivers for concentrated solar power (CSP) plants. This will provide SCHOTT with the ability to begin producing solar receivers at the facility if the market develops as the company anticipates.
Anticipating future production increases of its solar power technologies, the new site will be built to support later expansion of both SCHOTT's PV and its solar receiver lines as the US renewable energy market continues to grow.
"Demand for renewable energy in the United States is skyrocketing," said Prof. Dr. Udo Ungeheuer, Chairman of the board of management of SCHOTT AG. "As one of the only companies that possess the manufacturing expertise needed to produce both PV modules and receivers for solar thermal power plants, SCHOTT Solar is uniquely positioned to expand U.S. production of these technologies, and thereby play a major part in helping the United States secure its ambitious renewable energy production goals."
A Worldwide Leader in PV Production
SCHOTT Solar's expansion of its U.S. PV production capabilities will further strengthen its position as one of the world's leading manufacturers of solar PV modules, which directly convert solar radiation into clean electricity. The new site will compliment SCHOTT Solar's existing Billerica, Massachusetts facility, which has a capacity of 15 MW and produces the SCHOTT ASE-300 Watt PV module, one of the largest standard-sized modules available on the market today.
In 2007 SCHOTT Solar's total PV production capacity worldwide is 130 MW. For 2010 SCHOTT Solar aims on a global yearly production capacity of crystalline solar cells and modules of about 450 MW and an additional capacity of 100 MW in ASI thin film technology.
Recently, SCHOTT Solar announced a new joint venture with WACKER Chemie, a globally positioned chemical company headquartered in Munich, Germany, to produce multicrystalline silicon ingots and wafers, the starting material for solar cells. This partnership provides SCHOTT Solar with a reliable supply of polysilicon, for its tremendous planned growth.
Growing U.S. Market for Solar Thermal
SCHOTT Solar believes the potential market for solar thermal power in the United States is reaching a point where it makes sense for the company to develop plans for manufacturing capabilities for solar receivers in the U.S.
The company has established itself as a leading manufacturer of solar thermal receivers used in parabolic trough solar thermal power plants, with one solar receiver production facility currently online in Mitterteich, Germany, and another facility under construction in Sevilla, Spain, scheduled to go online in March, 2008.
"The recent opening of the 64 MW Nevada Solar One solar thermal power plant demonstrates that large-scale solar thermal power is a renewable energy technology whose time has come." said Dr. Gerrit Sames, Vice President Solar Thermal for SCHOTT."We expect that the reliability and cost-effectiveness of parabolic trough solar thermal power plants, along with the Southwestern United States' vast solar resources, will help make solar thermal power one of the United States' leading sources of renewable energy by 2025."
High resolution photographs of both photovoltaic and solar thermal installations, products, and manufacturing can be downloaded to accompany this release at www.schott-pictures.net keyword SOLAR
About SCHOTT
SCHOTT is a technology-driven, international group that sees its core purpose as the improvement of how people live and work through expert solutions in specialty materials, components and systems. Its main areas of focus are special glasses and glass-ceramics for architectural applications, the household appliance industry, pharmaceutical packaging, optics and opto-electronics, information technology, consumer electronics, lighting, automotive engineering and solar energy.
SCHOTT has a presence in close proximity to its customers through highly efficient production and sales companies in all of its major markets. It has more than 16,800 employees producing worldwide sales of approximately $2.3 billion. In North America, SCHOTT's holding companies SCHOTT Corporation and its subsidiary SCHOTT North America, Inc. employ about 2,500 people in 16 operations.
The company's technological and economic expertise is closely linked with its social and ecological responsibilities.
Featured Product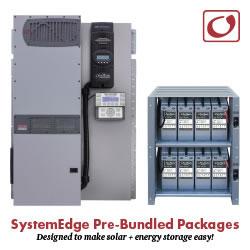 Each pre-bundled package is designed to make solar plus energy storage easy. By combining OutBack's most popular FLEXpower pre-wired systems with matched OutBack energy storage, SystemEdge takes the guesswork out of installing solar plus storage. Every SystemEdge package includes a FLEXpower factory pre-wired system, application-specific EnergyCell batteries and racking, FLEXware ICS Plus combiner and all the necessary connection hardware.