Acumentrics Corporation and Jadoo Power have agreed to collaborate in producing small scale generators (< 5 kW) utilizing Acumentrics' SOFC technology and Jadoo's N-Stor interface, modular system design and automated canister refill technology.
WESTWOOD, Mass. & FOLSOM, Calif., Sept. 20, 2007 - Acumentrics Corporation (http://www.acumentrics.com/), developer of the highest-efficiency, fuel-flexible small scale solid oxide fuel cell (SOFC) system, and Jadoo Power (http://www.jadoopower.com/), the leading supplier of portable hydrogen fuel cell systems, have agreed to collaborate in producing small scale generators (< 5 kW) utilizing Acumentrics' SOFC technology and Jadoo's N-Stor interface, modular system design and automated canister refill technology.

"Providing generators that are silent, clean and efficient and can operate on conventional fuels like propane is a winning product that can replace light duty generators," said Lee Arikara, CEO of Jadoo Power.
"Whether a power user is in the field, in a rugged environment, or running a high-value commercial application without access to grid power, we will set a new standard in providing quiet, virtually zero-emission, high-quality, easy-to-use power whenever, wherever and for however long it is needed," added Gary Simon, CEO of Acumentrics Corporation. "For example, the Acumentrics Jadoo system is expected to double the run time of the current 500 pounds of batteries carried by soldiers for a five day recon mission, weigh 80% less (including fuel), and operate silently. Silence is very important. Small generators give away our soldiers' position."
Comparison vs Batteries & Generators
Portable Power Generation Systems Comparison - Fuel Cells, Batteries & Generators
Specification Acumentrics-Jadoo System Batteries Generators
Fuel-to-power efficiency 35% Depends on charging source 10-15%
System Weight (with fuel) 50 lbs 500 lbs 100 lbs
Life 3000 hours 1200 hours 500 hours
Noise < 45 dB < 45 dB >75 dB
Emissions Negligible Negligible CO, NOx
Remote Monitoring Yes No No
Indoor/Outdoor usage Yes Yes Only Outdoor
Comparison based on 1 KW unit
For applications requiring less than 5000 watts of power, like mobile command & control centers, remote power backup, and portable generator replacement for the emergency services, construction and recreational markets, the new Acumentrics-Jadoo power systems are expected to set performance standards that substantially exceed that of the installed base of small scale power sources - typically disposable batteries and small gasoline and diesel engines.
"To our knowledge, no other fuel cell system is available with the ruggedness of our tubular ceramic SOFC technology and the ability to use multiple fuels, plus freedom from an inflexible fuel infrastructure," Simon said. "We are now demonstrating systems running on military JP8 and will add that technology to the mix of offerings."
The companies estimate that the worldwide installed base of light duty power generator units for commercial and military applications is in excess of a million units, a total addressable market in excess of $3 billion. The new fuel cell product can provide critical strategic and competitive advantages in markets where the alternative is a small generator that is inefficient, unreliable, polluting and noisy.
Acumentrics and Jadoo expect to begin evaluating applications of the new unit with prospective users in the first quarter of 2009.
About Jadoo Power Systems
http://www.jadoopower.com/
Jadoo Power Systems, Inc. develops and sells next-generation, energy storage and power generation products for the portable and mobile power markets. The Company's patented interface technology combined with its modular architecture enables the integration of advanced fuel cell and fuel technologies into award winning products. For more information, please visit http://www.jadoopower.com.
About Acumentrics
http://www.acumentrics.com/
Acumentrics' unique, durable, fuel-flexible tubular ceramics-based fuel cell technology has exceeded performance standards in U.S. Department of Energy Solid-State Energy Conversion Alliance (SECA) Phase I tests, demonstrated the ability to operate for 1300-hours on synthetic JP-8 fuel, become the first biogas-fueled SOFC system in an installation at the innovative GlashusEtt environmental information center in Stockholm, and received a 2007 New England Innovation Award from the Smaller Business Alliance of New England. Acumentrics also sells rugged, uninterruptible power supplies (UPS) for military and other mission-critical markets.
# # #
For further information:
Tom Sommers (for Acumentrics)
(713) 222-1600
Ray Young (for Jadoo)
(916) 781-0659
Featured Product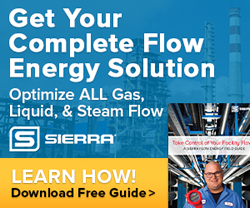 Download Flow Energy Guide - Written by Engineers For Engineers. Learn how to save on energy costs by optimizing your facility flows that impact costs like compressed air, natural gas, steam, and hot or chilled water.