World Bank Announces Competition for Design and Delivery of Innovative Lighting Products
Johannesburg, September 21, 2007 - The World Bank Group recently launched an initiative to provide modern lighting to the 250 million people in Sub-Saharan Africa who have no access to electricity. Jointly managed by the World Bank and IFC, Lighting Africa aims to develop market conditions for the supply and distribution of new, non-fossil fuel lighting products, such as fluorescent light bulbs and light emitting diodes, in rural and urban areas of the region that are not connected to the electricity grid.

The Lighting Africa initiative includes a grant competition managed by The Development Marketplace team of the World Bank Group entitled "Innovations in Off-Grid Lighting Products and Services for Africa." The competition will reward project ideas that address the various off-grid lighting needs of Sub-Saharan Africa, including alternative distribution models, new clean lighting technology, stronger production chains, and improvement of the policy environment.
Ten to twenty winners will receive grant funding up to $200,000.
The competition is open to a broad range of innovators around the world, including private businesses, nongovernmental organizations, universities, government entities, and individuals.
The Development Marketplace competition is sponsored by the Global Environment Facility (GEF), the Public-Private Infrastructure Advisory Facility (PPIAF), the Energy Sector Management Assistance Program (ESMAP), the Renewable Energy and Energy Efficiency Partnership (REEEP), and Good Energies, Inc.
The deadline for submitting proposals is 23:00 GMT on October 31, 2007.
Featured Product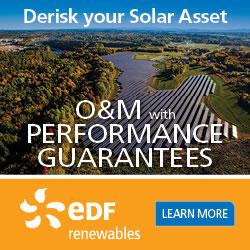 EDF Renewables offers the same innovative solutions that maximize the performance of our own 5.2 GW of installed projects. Because we're not an equipment manufacturer, our recommendations are transparent and data-driven. We cover the entire project lifecycle: from pre-commissioning support, through warranty and post warranty operation, to late stage and decommissioning.