Xantrex Technology Inc., the North American market leader for solar inverters, today announced that it will showcase a new product line in each solar segment this year at Solar Power 2007 - North America's largest solar industry conference and exhibit showcase.
VANCOUVER, B.C., September 20, 2007 - Xantrex Technology Inc. (TSX:XTX), the North American market leader for solar inverters, today announced that it will showcase a new product line in each solar segment this year at Solar Power 2007 - North America's largest solar industry conference and exhibit showcase, September 24 to 27, 2007, in Long Beach, CA.

Xantrex provides the enabling technology for solar energy systems, and this year offers a new product line in each of the grid-tie single phase, grid-tie three phase, and off-grid/backup renewable power segments.
The Xantrex XW System is the first fully-integrated, battery-based system designed for residential and commercial solar and off-grid/backup power applications. With its reliable, clean, compact design and integrated balance-of-systems components, the Xantrex XW System has established a new benchmark for off-grid, battery-based backup systems. Targeting 4 kilowatt (kW) to 18 kW indoor installations, it can be customized to suit almost any solar or backup power application - grid-tie, off-grid, remote, or village power.
With over 100 megawatts (MW) installed worldwide since the first GT3.0 was launched at Solar Power 2004, Xantrex has enhanced its popular single-phase GT Series Grid Tie Solar Inverter lineup to include the GT2.8, GT3.3N, GT4.0N and GT5.0 kilowatt (kW) models. All power levels are compact, have high efficiency ratings, are feature-rich and easy to install. These models are also versatile, providing a solution for smaller three-phase applications as well.
For the larger grid-tie three-phase market, Xantrex has launched the all new GT100 and GT250 Grid Tie Solar Inverter, at 100 kW and 250 kW respectively with manufacturing and support based in California. With the highest CEC efficiency in its class and scalability to meet multi-megawatt commercial and utility requirements, the GT100 and GT250 have been very well-received by the market, with over 20 MW of orders received to date.
Xantrex will also offer a preview of the innovative three-phase GT30, currently in development. This highly efficient inverter solution is estimated at a 96% CEC efficiency level and weighs less than 200 pounds, allowing it to be wall-mounted; a first for an inverter of this power level. Also being previewed, the new Xantrex Gateway monitoring system features wireless connectivity and an innovative solar monitoring software solution for single-phase GT and XW Series inverters. The Gateway system offers non-volatile flash memory storage, both Ethernet and 802.11 wireless support, email reporting capabilities and local network or Internet monitoring.
"We are pleased to be a part of Solar Power 2007 to showcase our leadership position in the solar industry, with our comprehensive, innovative new product lineup that makes it easy and cost-effective to do business with Xantrex, for dealers, distributors and installers throughout North America," said John Wallace, Xantrex CEO. "We continue to develop and manufacturer ground-breaking products, across all three renewable markets, which no other manufacturer offers."
Visit Xantrex at booth #318 to discover more about Xantrex and its three innovative new product lines.
For more information on Xantrex solar inverters and backup power systems, please visit
www.xantrex.com/renewablesystems
The XW System is currently shipping and available for purchase. For more information visit www.xantrex.com/xw
For more information on Solar Power 2007, please visit www.solarpowerconference.com
About Xantrex
Xantrex Technology Inc. (www.xantrex.com) is a world leader in the development, manufacturing and marketing of advanced power electronic products and systems for the renewable, programmable, mobile, and portable power markets. The company's products convert and control raw electrical power from any central, distributed, renewable, or backup power source into high-quality power required by electronic and electrical equipment. Headquartered in Vancouver, British Columbia, the company has facilities in Arlington, Washington; Livermore and San Diego, California; Elkhart, Indiana; Barcelona, Spain; and Reading, England. Xantrex is listed on the Toronto Stock Exchange under the ticker symbol "XTX".
Note that this news release contains forward-looking statements related to Xantrex Technology Inc. Such statements reflect the current views of Xantrex with respect to future events and are subject to risks and uncertainties that could cause actual results to differ materially from those contemplated in these forward-looking statements.
For further information, please contact:
Laura Taylor
A&R Edelman
(202) 370-6188
Laura.taylor@ar-edelman.com
Bob Neudecker
Xantrex Technology Inc.
(604) 422-2589
bob.neudecker@xantrex.com
Featured Product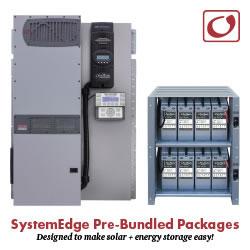 Each pre-bundled package is designed to make solar plus energy storage easy. By combining OutBack's most popular FLEXpower pre-wired systems with matched OutBack energy storage, SystemEdge takes the guesswork out of installing solar plus storage. Every SystemEdge package includes a FLEXpower factory pre-wired system, application-specific EnergyCell batteries and racking, FLEXware ICS Plus combiner and all the necessary connection hardware.