Suntech to Manufacture Modules for Lumeta's Line of Roof Integrated Solar Products
IRVINE, Calif. and SAN FRANCISCO, Calif., Sept. 25 -- Lumeta, a leading provider of roof integrated solar energy products, and Suntech America, the U.S. division of Suntech Power Holdings Corp. , one of the world's leading manufacturers of photovoltaic (PV) cells and modules, today announced that they have signed a letter of intent to manufacture Lumeta's line of roof integrated photovoltaic products.

Under the terms of the alliance, Suntech will manufacture custom solar modules that meet the unique specifications of Lumeta's patent-pending line of roof integrated photovoltaics, including the landmark Solar S Tile and the recently-unveiled Power-Ply 380, Lumeta's newest fully adhered solar product for the low-slope rooftop market.
"The market for roof integrated solar power is poised for rapid growth, across the U.S. and around the world," said Timothy M. Davey, CEO of Lumeta. "Our new partnership with Suntech America validates the unique design attributes we've built into the Lumeta line of solar products and positions us to capture a sizable share of this market."
Davey added, "Suntech is a world-class solar manufacturer and a perfect partner to help us launch the Lumeta line into new and existing markets for solar power."
Lumeta is a wholly owned subsidiary of DRI Companies, the parent company of one of the largest roofing contractors in the U.S., with major commercial and residential building customers. DRI management brings nearly three decades of roofing expertise to the solar industry; its team of solar engineers and roofing technicians has designed the Lumeta product line to integrate seamlessly with most conventional roof systems. DRI formally launched Lumeta and its first roof integrated solar product line, the Solar S-Tile, at the Pacific Coast Builders Conference in May 2007.
Suntech America will provide custom manufactured modules for Lumeta through its specialized building-integrated photovoltaics (BIPV) facility in Wuxi, China. Suntech Power began producing solar modules in 2002 with 10 megawatts of capacity and has grown rapidly to a projected 480 megawatts of production capacity by the end of this year. The company has recently begun a major hiring and expansion initiative in North America as well as Europe in order to better serve its customers in these regions.
"The Lumeta team's solid history and DRI Companies' strong presence in the California and western U.S. roofing markets is an attractive proposition for any solar manufacturing company," said Leonard May, Vice President of MSK BIPV Business Development for Suntech America. "Rooftops are where the action is today in the solar industry. Lumeta's designers have created a true, roof integrated solution for solar power -- backed by one of the best roofing companies in the business. Suntech America looks forward to working with Lumeta and expanding its penetration in the US market."
Lumeta will be showcasing its line of solar modules, including the PowerPly 380 and the Solar S Tile, at the Solar Power 2007 Conference in Long Beach, CA, Sept. 24-27. Find Lumeta in booth number 344. Suntech will display its full range of U.S. product offerings in Hall B, at booth number 364 of the Long Beach Convention and Entertainment Center.
On the web:
http://dricompanies.com/Energy.aspx
http://dricompanies.com/LumetaS.aspx
http://dricompanies.com/PowerPly380.aspx
About Lumeta, DRI Companies and DRI Energy
Lumeta's line of roof integrated solar products, including the Solar S-Tile and Power-Ply 380, designed by professional roofing contractors and solar system designers, optimizes solar system performance without compromising roof system functionality. Through its subsidiaries -- DRI Energy, DRI Commercial and DRI Residential -- DRI Companies offers fully integrated roofing services, including turnkey, roof integrated solar installations for both steep and low slope roofing systems using the latest in roof integrated solar technology -- all from a single source.
About Suntech
Suntech Power Holdings Co., Ltd. is a leading solar energy company in the world as measured by both production output and capacity of solar cells and modules. Suntech provides solar solutions for a green future. Suntech designs, develops, manufactures, and markets a variety of high quality, cost effective and environmentally friendly PV cells and modules for electric power applications in the residential, commercial, industrial, and public utility sectors. Suntech's majority-owned subsidiary, MSK Corporation is one of the top-ranked companies in the building-integrated photovoltaics (BIPV) space. Suntech's customers are located in various markets worldwide, including key markets throughout Europe, North America, Japan and China. For more information, please visit http://www.suntech-power.com .
Suntech America, Inc. is a wholly-owned subsidiary of Suntech Power Holdings Co., Ltd with responsibility for the distribution of Suntech products in the Americas. For more information contact Roger Efird, tel: +1 (301) 774- 3430, or email: sales@suntechamerica.com.
Safe Harbor Statement
This press release contains forward-looking statements. These statements constitute "forward-looking" statements within the meaning of Section 27A of the Securities Act of 1933, as amended, and Section 21E of the Securities Exchange Act of 1934, as amended, and as defined in the U.S. Private Securities Litigation Reform Act of 1995. These forward-looking statements can be identified by terminology such as "will," "expects," "anticipates," "future," "intends," "plans," "believes," "estimates" and similar statements. Such statements involve certain risks and uncertainties that could cause actual results to differ materially from those in the forward-looking statements. Further information regarding these and other risks is included in Suntech's filings with the U.S. Securities and Exchange Commission, including its annual report on Form 20-F. Suntech does not undertake any obligation to update any forward-looking statement as a result of new information, future events or otherwise, except as required under applicable law.
For more information, please contact:
For DRI Energy
Matthew Lewis
Antenna Group
Tel: +1-415-977-1931
Email: matthew@antennagroup.com
For Suntech
In China:
Rory Macpherson
Investor Relations Manager
Suntech Power Holdings Co., Ltd.
Tel: +86-510-8531-8922
Email: rory@suntech-power.com
In the United States:
Sanjay M. Hurry
Vice President
The Piacente Group, Inc.
Tel: +1-212-481-2050
Email: suntech@tpg-ir.com
Featured Product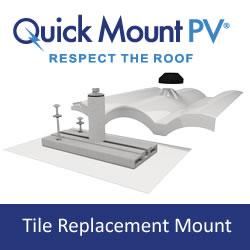 The Tile Replacement Mount provides a fast and easy way to install solar on tile roofs while protecting against water intrusion. Simply remove the tile and replace it with the Tile Replacement Mount. Works with all standard curved and flat tile roofs, and all standard rail-based racking systems. Flashed at both the deck and top levels, the mount is fully engineered to meet code requirements and industry best practices. The Tile Replacement Mount features Quick Mount PV's patented Elevated Water Seal technology for optimal waterproofing. Get a free sample and see for yourself!