Carmanah Technologies completes new executive suite with arrival of internationally experienced officer
Victoria, British Columbia, Canada - Wednesday, October 17, 2007 - Carmanah Technologies Corporation (TSX: CMH), a global provider of solar power and lighting technologies, is pleased to announce the appointment of Ted Lattimore as Chief Executive Officer, effective October 16, 2007. Mr. Lattimore takes over from Art Aylesworth, the company's CEO since 2000, who moves to the position of Chairman of the Board.

Mr. Lattimore brings more than 20 years of entrepreneurial and executive experience in the mobile telecommunications industry, beginning with his involvement in the launch of the industry in Canada in 1985, to most recently as the President and Chief Operating Officer for Vodafone Romania (formerly Connex - MobiFon, part of Montreal-based TIW), a subsidiary of Vodafone Group Plc., the world's largest international mobile telecommunications group. His achievements with Connex - MobiFon / Vodafone include growing the company's customer base from 700,000 to 5.5 million subscribers in six years.
"I am very pleased to have Ted succeed me as CEO at this natural transition point in the company's development," stated Art Aylesworth. "Ted has an outstanding track record of delivering exceptional operational and organizational performance, and company profitability, in a rapidly growing, global technology industry. His wealth of knowledge, commitment to success, and experience in taking new technologies and solutions to new markets, will lead Carmanah into the next phase of its strategic growth plan."
Prior to joining Carmanah, Mr. Lattimore's career includes:
2000 to 2005 - President and Chief Operating Officer for Vodafone Romania, a subsidiary of Vodafone Group Plc, previously known as Connex - MobiFon. Connex - MobiFon was the largest operating company of Montreal based TIW. Mr. Lattimore led the company as the highest-ranking company officer situated in Bucharest, Romania, from its early years as a venture capital investment in 2000, through to the successful sale of the company to Vodafone in mid-2005, concluding with the completion of his responsibilities at the end of that year. Mr. Lattimore successfully built and led, both strategically and operationally, the company to annual US$1 billion revenues in 2005, with 50% operating margin.
1999 to 2000 - Senior Vice President for Western Canada for Bell Mobility. Mr. Lattimore developed the service launch of Bell Mobility to the provinces of Alberta and British Columbia.
1989 to 1999 - Vice President Marketing and Vice President/General Manager Wireless Services (1997 to 1999) for BCTel Mobility (now Telus Mobility). Mr. Lattimore oversaw all strategic planning and marketing responsibilities for the rapidly expanding cellular telephone network business, as well as the profit and loss responsibilities for a $30 million Paging, Autotel, Satellite and Wireless Systems telecommunications business. His leadership included the marketing introduction of CDMA Cellular telephony service to the Canadian marketplace. Mr. Lattimore founded and chaired the Mobility Canada Strategic Advisory Committee.
1985 to 1989 - Bell Mobility; Director of Marketing, Toronto (1988 to 1989), Branch Manager (1985 to 1988), London, Canada.
Prior to joining the mobile telecommunications industry in 1985, Mr. Lattimore worked for Xerox Canada in roles in both field sales and head office marketing.
At Connex - MobiFon, in the developing Eastern European country of Romania, Mr. Lattimore implemented a complete reorganization and financial focus of the company that resulted in uninterrupted customer and financial growth for the parent company, Canada's TIW, while concurrently improving employee and customer satisfaction. The company generated $286 million in shareholder dividends to year end 2004, sold a $225 million high-yield bond—the first ever in Romania—and managed a $300 million loan restructuring, the biggest private placement in Romanian history. The European Bank of Reconstruction and Development named it one of its top 10 investments of all time. Business Central Europe, a publication of The Economist, named it "Best Company in Romania" for three years in a row. Connex - MobiFon's sale to Vodafone in 2005, the larger part of a US$4.5 billion transaction, was the largest corporate sale in Romania.
A native of Ontario, Canada, Mr. Lattimore holds a bachelor's degree in Economics from the University of Western Ontario, completed executive finance training at the Harvard Business School, and guest lectured at the Romanian/Canadian MBA program in Bucharest. He was recognized as one of the top 10 business managers in Romania.
"Ted Lattimore has demonstrated his abilities as a mature, aggressive and highly strategic business leader and I am confident about Carmanah's future in such capable hands," said company founder and exiting Chairman Dr. David Green, who remains on the Carmanah board as an independent director. "The Board has been particularly impressed by Ted's decision to receive the majority of his compensation in the form of options and performance-based share units. Additionally, Ted has requested the opportunity to purchase nearly $500,000 of common shares from the company. Clearly Ted is confident in the growth opportunities available to Carmanah and is very focused on realizing this potential."
Following the recent hiring of Mr. Philippe Favreau as Chief Operating Officer and Mr. Roland Sartorius as Chief Financial Officer, Mr. Lattimore's appointment completes Carmanah's succession plan, ensuring continuity and quality of leadership going forward.
A conference call will be held on Tuesday, October 16 at 11:00AM Eastern (8:00AM Pacific) to introduce Mr. Lattimore. To participate on the conference call, please call toll-free 1-800-525-6384 (domestic) or +1-780-409-1668 (international) approximately five to ten minutes prior to the start time. When prompted for the Conference ID, please enter 20709987.
A replay of this conference call is available approximately two hours following the call's completion. To access this recording, call toll-free 1-888-214-7699 (domestic) or +1-402-220-1554 (international). When prompted for the passcode, please enter 20709987. In addition, a recording of the conference will accessible via Carmanah's corporate website at www.carmanah.com within three business days.
About Carmanah Technologies Corporation
Carmanah is a technology leader and well recognized brand in solar-LED lighting, solar power systems and LED-illuminated signage. From its headquarters in Victoria, British Columbia, Canada, Carmanah oversees a network of branch offices and sales representatives across Canada, the United States and the United Kingdom.
Carmanah is a publicly traded company, with common shares listed on the Toronto Stock Exchange under the symbol TSX:CMH.
For more information, please visit www.carmanah.com
For further information, please contact:
David Davies
Tel: 250 382 4332
ddavies@carmanah.com
Featured Product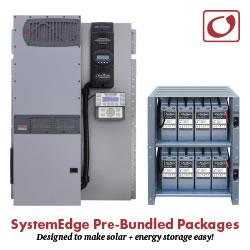 Each pre-bundled package is designed to make solar plus energy storage easy. By combining OutBack's most popular FLEXpower pre-wired systems with matched OutBack energy storage, SystemEdge takes the guesswork out of installing solar plus storage. Every SystemEdge package includes a FLEXpower factory pre-wired system, application-specific EnergyCell batteries and racking, FLEXware ICS Plus combiner and all the necessary connection hardware.