EnerWorks, Inc. has been selected to supply the solar thermal domestic water heating solution to Phoenix Place, the apartment housing project for Green Phoenix.
The EnerWorks' full turn-key solution for solar water heating will complement existing geothermal technology to provide a pre-heat system for domestic hot water and space heating in each apartment unit in Phoenix Place. The solar system will provide an estimated 27% of the total hot water load annually through the use of 40 solar panel collectors.
The EnerWorks appliance will improve the overall performance of the existing system, optimizing energy usage and controlling energy consumption. Sustainable solar thermal technology leads to reduced operational costs, reduces future energy costs and risk, and allows for long term forecasting, budgeting and efficient energy management. Environmentally, the system will decrease Phoenix Place's green house gas emissions by 43.6 metric tons per year.
The EnerWorks customized full turn-key system will be installed in mid-October, once the geothermal installation is complete.
EnerWorks was selected for the project because of its cost-competitive quote allowing energy supply at rates competitive with current energy pricing, as well as the innovative wall-hanging design of its collectors and mounting solutions and their long operational life.
"To the best of our knowledge, this will be the first wall hanging canopy solar thermal installation in North America so flexibility and innovation in the installation is paramount," says Graham Smith, EnerWorks' VP Commercial and Industrial Unit. The collectors will be mounted on a south-facing wall and sloped at a 45 degree angle, maximizing energy collection.
As the Project Developer, EnerWorks is working in partnership with Parkdale United Church Foundation, Meehan's Industrial for fabrication, project management and installation, Copperhead Mechanical for plumbing and piping, Tak Engineering for structural design, and Takric Engineering for mechanical design.
About EnerWorks:
EnerWorks is North America's leading solar thermal technology provider in the commercialization and distribution of the most cost effective and highest quality renewable energy solutions to the North American commercial market. Clean, intelligent, solar energy.
Contact:
Graham Smith
VP, Commercial & Industrial Business Unit
P: 519-268-6500
F: 519-268-6292
www.enerworks.com
About Partner(s)
Parkdale United Church/Green Phoenix:
In 1973, faced with rising costs and a changing community, the congregation of Parkdale United Church created the Parkdale United Church Foundation (PUCF), a charitable non-profit organization.
In 1976, the church built a 136-unit apartment building, Phoenix Place Apartments. These apartments are home to many who would otherwise find housing too expensive or difficult to obtain, including persons who are new to Canada, who have been living in shelters or sub-standard housing, or who lack the resources to find decent shelter elsewhere,
Contact:
Rod Layman, Project Coordinator or
Predrag Milenkovic, Property Manager
P: 416-532-1191
F: 416-532-4334
www.phoenixplace.com
Meehan's Industrial
Meehan's Industrial is a mechanical installation and fabrication business specializing in infrastructure and industrial installations throughout southern Ontario. Meehan's Industrial is excited to be working with EnerWorks on their project at the Hospital for Sick Children and other projects in the Greater Toronto Area.
Contact:
Vince Meehan
President
P: 905-875-0090
F: 905-875-0092
www.meehansindustrial.com
Copperhead Mechanical
Copperhead Mechanical specializes in the supply and installation of hot water (hydronic) heating equipment including boilers, radiant floor heating, solar, snow and ice melts. The company has two divisions, being commercial and residential. The commercial division specializes in the servicing and support of multi-unit high rise residential apartment buildings for property management companies. The company has extensive experience in the installation refurbishment of mechanical rooms for high rise apartment buildings. The residential division provides services to custom home builders/general contractors and individual home owners with their design-build projects. The company has a blue chip customer base, offers 24/7 emergency service and has factory trained technicians.
Contact:
Adrian Leu
President
P: 416-421-4111
www.copperhead.ca
Tak Engineering
Tak Engineering has diverse expertise in the areas of site development, building layout and structural design. Their work reflects extensive experience and dedication specifically in residential, commercial, and industrial design.
Contact:
Tom Zeniuk
Tak Engineering
P: 416-798-2271
F: 416-798-2289
www.takengineering.com
Takric Engineering
Takric Engineering Ltd. is a licensed consulting engineering company active in the building services industry within Oakville and, especially, Toronto and the surrounding area. Takric's specialty involves mechanical and electrical system design and construction management for various types of buildings. Takric has been involved in the design of energy conservation, renewable energy and sustainable building design for many years. As a consulting engineering firm and a citizen of the earth, Takric is committed to offering excellent engineering services and environmental awareness in their designs.
Contact:
Tak-Man Lau, P.Eng. or Rick Ng, C.E.T.
Takric Engineering Ltd.
P:: 905-477-2869
F: 905-477-5148
e-mail: info@takric.com
Featured Product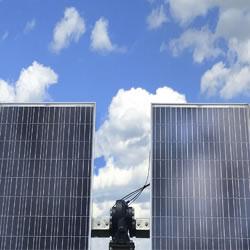 Solar FlexRack's latest solar tracker technology bundles an advanced tracker design with a full team of seasoned engineering and installation experts at your service. The next-generation solar tracker delivers a package of features that both enable increased energy yields for commercial and utility-scale solar installations, and significantly reduce project risks. That translates to smart installation cost-savings across your project budget.