Drake Landing, Canada's first, and North America's largest, solar community, officially launched September 13th with partners from across the country in attendance.
Among the participants was EnerWorks, Inc. a leading North American developer and manufacturer of solar thermal systems based on technology developed in cooperation with Queen's University. EnerWorks provided the solar technology for the project: 904 solar collectors and ancillary equipment which will provide solar space and domestic hot water heating to the community's 52 homes.

Approximately 800 EnerWorks solar collectors have been mounted on roofs of interconnected garages in the Drake Landing community. Covering more than 2,300 square metres in total area, these panels will generate up to 1.5 megawatts of thermal power. During the summer, solar energy will be collected and stored in a series of 144 boreholes deep under the neighbourhood park. In the winter, heat will be extracted from the field and delivered to the homes as hot water through underground, insulated pipes. On sunny days, solar energy will be collected and delivered directly to the homes. ATCO Gas, Alberta's largest natural gas distribution company, managed the construction and will operate and maintain the system until the commissioning period concludes, at which time it will take ownership of it.
The homes were built by Sterling Homes, a member of the Sterling Group of Companies, a division of Qualico Development West Ltd., one of Canada's largest builder/developer groups. EnerWorks has also provided Sterling Homes with independent two-panel solar thermal systems, installed on the roofs of each home to meet 60 percent of the domestic hot water needs.
Master-planned by prominent, Calgary-based real estate development company, United Communities, the Drake Landing Solar Community is projected to reduce greenhouse gas emissions by five tonnes per year for each house, for a total reduction of 260 tonnes annually, by using solar energy. Approximately 80 percent of residential greenhouse gas emissions in Canada result from space and domestic hot-water heating.
About EnerWorks:
EnerWorks, Inc. is North America's leading solar thermal technology provider. With proven, patented technology and certified systems, EnerWorks offers high quality, reliable and cost effective renewable energy solutions to the North American market.
Contact:
Tim Berry, Senior VP, Marketing and Channel Development
P: 519-268-6500 F: 519-268-6292
www.enerworks.com
Many organizations from Canada, the United States and internationally contributed to Drake Landing Solar Community. The partners included:
Natural Resources Canada (NRCan) plays a pivotal role in helping shape the important contribution of the natural resources sector to the Canadian economy, society and environment. NRCan's CANMET Energy Technology Centre, one of the main research and development arms of the Government of Canada, initiated and leads this project.
Technology Early Action Measures (TEAM) is a Government of Canada technology investment program. TEAM supports projects that are designed to develop technologies that mitigate greenhouse gas emissions nationally and internationally, and that sustain economic and social development.
Environment Canada's Meteorological Services, Atlantic Region, represented Canada in the International Energy Agency's Implementing Agreement on Energy Conservation through Energy Storage and is Canada's expert in underground thermal storage technologies
The Federation of Canadian Municipalities received $250 million from the Government of Canada to establish and manage the Green Municipal Funds (GMF). The GMF support partnerships and leveraging of both public and private sector funding to reach higher standards of air, water and soil quality, and climate protection. In Budget 2005, the Government of Canada committed a further $300 million to the GMF.
The Government of Alberta's $33 million Innovation Program is a three-year initiative, managed by Alberta Innovation and Science, that provides seed funding to accelerate the innovation process. Proposals are developed by Alberta government departments, agencies, boards, commissions, Crown corporations and their partners.
United Communities is the Calgary-based real estate developer for this project. It is committed to building theme communities that are well-planned and architecturally controlled. It also operates in Edmonton and British Columbia.
Sterling Homes, the builder for this project, designed each home to optimize both R-2000 and Built Green Alberta programs. Sterling Homes is a member of the Sterling Group of Companies, a division of Qualico Developments West Ltd., one of Canada's largest builder/developer groups.
ATCO Gas, Alberta's largest natural gas distribution company, managed the construction, as well as operation and maintenance of the systems. Following a commissioning period, it will take ownership of the system. ATCO Gas is part of the Alberta-based ATCO Group of Companies.
The Town of Okotoks is a vibrant community of 14,000 that is nestled along the Sheep River Valley only 10 kilometres south of Calgary. Okotoks is one of the fastest-growing towns in Alberta and is a recognized leader in sustainability initiatives.
Climate Change Central financially supported the pre-design site investigation and planning, and helped secure additional partners and funding for the project. It is a unique partnership among Alberta businesses, governments and the environmental community aimed at reducing greenhouse gases.
Featured Product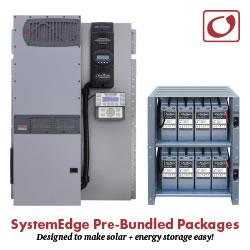 Each pre-bundled package is designed to make solar plus energy storage easy. By combining OutBack's most popular FLEXpower pre-wired systems with matched OutBack energy storage, SystemEdge takes the guesswork out of installing solar plus storage. Every SystemEdge package includes a FLEXpower factory pre-wired system, application-specific EnergyCell batteries and racking, FLEXware ICS Plus combiner and all the necessary connection hardware.