ODYNE CORP. COMPLETES A $3.2 MILLION PRIVATE PLACEMENT TO FUND WORKING CAPITAL REQUIREMENTS
Investors and Media
Andrew Lavin
A. Lavin Communications
Tel: (212) 290-9540
andrewlavin@alavin.com
For Immediate Release
ODYNE CORP. COMPLETES A $3.2 MILLION PRIVATE PLACEMENT TO FUND WORKING CAPITAL REQUIREMENTS
HAUPPAUGE, NY, October 29, 2007 -- Odyne Corporation (OTCBB:ODYC), a clean technology company that develops advanced hybrid electric vehicle propulsion systems, today announced that it had completed a private placement of 10% senior secured convertible notes and warrants to purchase common stock, and received gross proceeds in the amount of $3.2 million.
The net proceeds of the private placement will be used by Odyne for its working capital and capital expenditure requirements. The private placement was led by The Quercus Trust, which has been an investor in several small cap renewable energy companies. In addition, Odyne Chief Executive Officer Alan Tannenbaum, a former Lehman Brothers managing director, also invested in the private placement.
"This financing solidifies our working capital position and allows us to continue executing our business plan," says Mr. Tannenbaum. "We have three main product lines: PHEV systems for refuse and recycling trucks; PHEV systems for buses; and a PHEV system for aerial lift trucks for utility maintenance that we recently launched as a joint venture with Deuco Inc. Our objective for 2008 is to deliver reliable, effective, efficient PHEV systems for these platforms."
Odyne's notes and warrants were offered and sold in units only to "accredited investors," (as defined in Regulation D of the Securities Act). Each unit consisted of $100,000 principal amount of 10% senior secured convertible debentures and warrants to purchase shares of common stock at an exercise price of $.75 per share, subject to certain anti-dilution provisions.
The debentures bear interest at 10% percent per year, payable in cash or freely-tradable common stock at Odyne's option. The warrants are exercisable at any time and expire three years from issuance.
More…
Page 2
The securities sold in the private placement have not yet been registered under the Securities Act of 1933, as amended, and may not be offered or sold in the United States in the absence of an effective registration statement or exemption from registration requirements. As part of the private placement, Odyne agreed to file a registration statement with the U.S. Securities and Exchange Commission within 60 days after the final closing for purposes of registering the resale of the shares of common stock issuable upon the conversion of the notes and exercise of the warrants sold in the private placement. This press release does not constitute an offer to sell or the solicitation of an offer to buy, nor shall there be any sale of these securities in any state in which such offer, solicitation or sale would be unlawful prior to the registration or qualification under the securities laws of any such state. Matrix USA LLC acted as placement agent for the transaction.
About Odyne Corporation
Odyne Corporation is a clean technology company that develops and manufactures propulsion systems for advanced Plug-in Hybrid Electric Vehicles (PHEV), specifically medium and heavy-duty trucks and buses. The company has developed a proprietary system combining electric power conversion, power control and energy storage technology, with standard electric motors, storage batteries and other off the shelf components resulting in a lower fuel cost, lower operation and maintenance cost, substantially lower emission and a quieter vehicle. Visit www.odyne.com for more information.
Forward-Looking Statements
This press release contains certain "forward-looking statements" related to the business of Odyne which can be identified by the use of forward-looking terminology such as "believes," "expects" or similar expressions. Such forward looking statements involve known and unknown risks and uncertainties, including uncertainties relating to product development and commercialization, regulatory actions or delays, the ability to obtain or maintain patent and other proprietary intellectual property protection, market acceptance, future capital requirements, competition in general and other factors that may cause actual results to be materially different from those described herein as anticipated, believed, estimated or expected. Certain of these risks and uncertainties are or will be described in greater detail in our public filings with the U.S. Securities and Exchange Commission. Odyne is under no obligation to (and expressly disclaims any such obligation to) update or alter its forward-looking statements whether as a result of new information, future events or otherwise.
* * *
Featured Product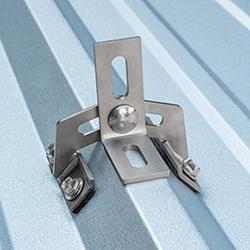 SolarRoofHook's Low Profile QuickBOLT with Microflashing™ is the industry's affordable, UL Certified Asphalt Shingle mounting system. The Microflashing™ is compressed by the collar on the bolt to create a water-tight seal. With an installation time of less than one minute, the Low Profile QuickBOLT allows installers to complete more jobs.