Going carbon neutral is for sissies. Clean up ALL carbon, stop climate change dead. In a soon to be released book, author Prof. Steve Clemens suggests ways to bring atmospheric concentrations of carbon back to pre-industrial levels, as if we did not pollute the planet at all.
Inspired by Richard Branson's Virgin earth Challenge, this controversial new book introduces simple and obvious ways to bring back atmospheric carbon concentrations to natural levels, i.e. as if humans did not pollute the world. It will cost a lot of money of course, but it can be done. And it can be done in 20 years only.

How?
A combination of existing technologies such as cogeneration, biofuels and carbon capturing and sequestration, when applied together, will actually absorb or extract carbon from the environment while producing electrical and thermal power.
About 600 such bio-chp-ccs facilities around the world should be able to go well beyond the carbon-neutral objective. In 20 years of operation they would absorb ALL anthropogenic carbon emissions accumulated since the start of the industrial revolution.
How would climate change models react to that?
Furthermore, a few other controversial ideas are launched:
- personal carbon allowances, your own private Kyoto Protocol
- the fuel crops versus food crops debate. It is not fuel versus food, it's fuel versus meat
- Pigouvian taxes: tax bad things like pollution, support good things like employment
- don't attack SUV drivers for their gas-guzzling ways, please throw rotten tomatoes at meat-eaters and non-green electricity families.
However, the main proposal in this book is based on a do-nothing scenario for people like you and me. So please remain seated and enjoy your reassuringly expensive coffee.
Please visit
www.thankyoufornotbreathing.com
to know more or to order your copy.
About the author:
Prof. Steve Clemens
- Founder of carbon offsetter Pollution-Delete:
www.pollution-delete.org
- Lecturer at Brussels business school UBI:
www.ubi.edu
Featured Product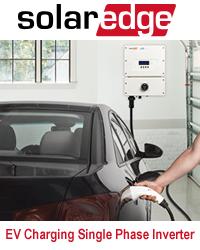 The SolarEdge PV inverter combines sophisticated digital control technology with efficient power conversion architecture to achieve superior solar power harvesting and best-in-class reliability. The fixed-voltage technology ensures the solar inverter is always working at its optimal input voltage over a wider range of string lengths and regardless of environmental conditions. A proprietary data monitoring receiver has been integrated into the inverter and aggregates the power optimizer performance data from each PV module. This data can be transmitted to the web and accessed via the SolarEdge Monitoring Portal for performance analysis, fault detection and troubleshooting of PV systems.