New independent and backup power kit designed for RV, cottage and tailgating enthusiasts
ICP Solar to launch Coleman® Solar Generator Kit at selected Costco Stores
New independent and backup power kit designed for RV, cottage and tailgating enthusiasts
Montreal, Canada, November 5, 2007 ¨ ICP Solar Technologies Inc. (OTCBB: ICPR, FRANKFURT: K1U.F), a developer, manufacturer and marketer of solar cells and products, today announced that in partnership with Costco it will introduce the Coleman® solar power kit into selected Canadian stores in Spring 2008.
"The Coleman® name is synonymous with high-quality, innovative products and their decision to partner with ICP Solar is a strong validation of our commitment to produce the best, most convenient solar chargers," said Sass Peress, CEO, ICP Solar. "Our partnership with Costco Canada provides an important high quality distribution partner for reaching Canadian consumers. We are confident that their market position and distribution expertise will give us added advantage and help us increase the awareness of how solar products can provide an environmentally sound way for people to continue to enjoy all their daily activities wherever they are."
"This new product is complemented by other new ICP Solar product additions to the Costco Canada and USA webstores," said Tom Clark, VP Consumer Products- North America at ICP Solar. "We have designed them all to benefit from Costco's vast distribution capabilities to reach consumers, offering an unprecedented range of selection."
About Costco
Costco Wholesale Corporation operates an international chain of membership warehouses, mainly under the "Costco Wholesale" name, that carry quality, brand name merchandise at substantially lower prices than are typically found at conventional wholesale or retail sources. Costco currently operates 520 warehouses, including 385 in the United States and Puerto Rico, 71 in Canada, 19 in the United Kingdom, five in Korea, four in Taiwan, six in Japan and 30 in Mexico. The Company also operates Costco Online, an electronic commerce web site, at www.costco.com and at www.costco.ca in Canada.
About ICP Solar Technologies, Inc.
ICP Solar is a developer, manufacturer and marketer of solar cells and solar cell based products and building materials. Through the application of next-generation technologies and use of proprietary intellectual design the Company aims to be the industry's innovation leader. For the past 19 years, ICP Solar has led the consumer market through innovation and has now begun to apply that same philosophy to the OEM, rooftop and power generation segment of the solar industry .ICP Solar's management has over 50 years of experience in the renewable energy sector. The company's headquarters are located in Montreal, Canada, with additional locations in the USA, Spain, Ireland and France.
Corporate information may be found at www.icpsolar.com
The forward-looking statements herein include, but are not limited to, the expected expansion of our solar solutions into Europe Middle East, Asia and Africa. Our actual results may differ materially from those implied in these forward-looking statements as a result of many factors, including, but not limited to, overall industry environment, customer acceptance of our products, delay in the introduction of new products, further approvals of regulatory authorities, adverse court rulings, production and/or quality control problems, the denial, suspension or revocation of permits or licenses by regulatory or governmental authorities, termination or non-renewal of customer contracts, competitive pressures and general economic conditions, and our financial condition. These and other risks and uncertainties are described in more detail in our most recent SB-2 filing with the Securities and Exchange Commission. Forward-looking statements speak only as of the date they are made. We undertake no obligation to update or revise such statements to reflect new circumstances or unanticipated events as they occur, except as required by applicable laws, and you are urged to review and consider disclosures that we make in the reports that we file with the Securities and Exchange Commission that discuss other factors germane to our business.
Contact:
Lippert/Heilshorn & Associates
Jody Burfening/Elric Martinez, 212-838-3777
emartinez@lhai.com
Featured Product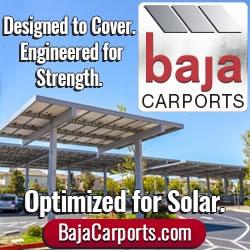 Baja Carports offers an extensive solar support system product line customized to customers' site specifications by in-house engineers, meeting their parking lot coverage, plus optimal PV production needs. Baja's Full Cantilever Tee is often paired with its Semi and Full Cantilever carports to meet live/loads up to 60psf and wind speeds to 160mph. All Baja products are pre-fabricated, bolted connections, pre-galvanized structural steel for fast on-site installation and project aesthetic requirements."