The first ever statewide GREEN event in Delaware. The Delaware Great Green Expo will highlight local and regional businesses that offer "Green" solutions and contribute to healthier and more sustainable lives.
Clear Channel Delaware, owner of five local radio stations (WDSD, WRDX, WILM, WDOV, WWTX) announced today the creation of Delaware's first "Green" Expo to be held on March 29, 2008 at the Chase Center on Wilmington's Riverfront.

The "Delaware Great Green Expo" will be the first of its kind in Delaware highlighting local and regional businesses that offer "Green" solutions and contribute to lessening pollution and waste in Delaware and surrounding areas. "We want to offer the Regional population a place to go to get information for themselves about green products, services, and companies. We want to highlight companies and local efforts that reduce harmful environmental impact and move us in the direction of long-term sustainability." Said Clear Channel's Market Manager, Paige Lamers. "This is a show for people who are looking for information on living a "greener" life, and consequently saving energy, and saving money. It will be a great showcase of ideas and technology for those who are just starting to explore their green options, as well as those who have embraced the green lifestyle and want to see what's new." Lamers added.
Clear Channel's station, WILM 1450 AM airs the "The Great Green Home Show" every Sunday at 11am, hosted by Paul Hughes and Doug Hunt. Paul adds, "We are thrilled that Clear Channel is taking this first bold step in Delaware to offer the public a really cool place to discover green products and innovations. This Expo will be the single most important event in Delaware this year. It will have a long-term impact on greening our homes and neighborhoods, help to reduce our energy consumption, and improve our way of life in the future. And you know, energy conservation turns into, "Green Money" that's money back in your pocket simply by conserving energy. This is going to be great fun and Clear Channel is to be commended for taking this on.
Clear Channel is offering opportunities for local businesses to display at the Expo and sponsor various other opportunities. For information about vendor opportunities please contact Account Executive, Travis McKay at 302-395-9838 or travismckay@clearchannel.com
Featured Product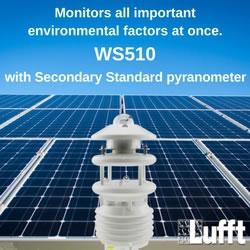 Professional weather sensors form the heart of large solar plants supporting their operation and performance. Lufft was the first manufacturer to combine several sensors in one housing, bringing the largest multiparameter weather sensor family with 19 members into being. Many of them are well-suited for solar site assessment and continuous monitoring. The most commonly used one is the WS600 delivering data on temperature, air pressure, wind, relative humidity and precipitation. Through its open protocol, it can easily be attached to radiation sensors e.g. from Kipp&Zonen. Other models have an integrated Silicon, Second Class or Secondary Standard radiation sensor.