UseCorn.com is pleased to announce its latest program: an innovative and unique Virtual Stock Trading program that explores the Ethanol industry and other companies related to the Renewable Fuel market. The program simulates actual stock trading.
Ethanol is a viable, homegrown energy alternative to foreign oil and has

achieved phenomenal growth and profits in recent months. New corn-derived,
and cellulosic ethanol plants have come on-line, feed stock suppliers,
railroad and trucking companies, big oil companies and refineries, and
many more related industries are all developing plans to further the
production and transportation of ethanol throughout the United States.
The UseCorn Virtual Stock Trading program features some of the ethanol and
industry related public companies that are traded on the stock market. The
program provides an excellent opportunity to research these companies and
formulate possible investment strategies.
UseCorn.com, L.L.C. is an Ethanol information and virtual stock trading
website; it was established in November of 2006, by a group of
professionals in Dallas, Texas.
The development, programming and
technology services for UseCorn are provided exclusively by WebNet
Technology Services http://www.webnet-ts.com/.
Featured Product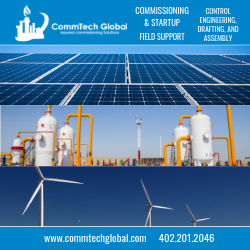 CommTech Global Solutions, LLC, provides professional and reliable commissioning services to customers in all realms of the energy industry. We blend our skills in engineering and technology with innovative business models, offering a complete range of services to assist you for a successful and in compliance operational startup. Consolidation of all our service domains gives our clients a comprehensive set of expertise and far-reaching experience on each project.