Renewable Energy Stocks Sector Close Up on Solar Stocks 2007; Analyst Upgrades and Industry Experts Agree "It is Just the Beginning"
POINT ROBERTS, WA and DELTA, BC - December 17, 2007, www.RenewableEnergyStocks.com, a leading investor news and research portal for the renewable energy sector within Investorideas.com, presents a sector close- up on solar stocks. Momentum created from oil prices closing in on $100 a barrel, global revenue growth within the sector and analyst upgrades have resulted in strong percentage gains in solar stocks.

Solar-power companies Evergreen Solar and China Sunergy reported new contracts and were up over 9% and 14% respectively on Friday's close. JA Solar Holdings was up $6.83 giving traders a 10.84% gain for the day.
For investors following solar stocks, the RenewableEnergyStocks.com website provides a comprehensive list of photovoltaic and solar stocks to research.
The site also features commentary by solar expert, J. Peter Lynch, "Renewable and Solar Energy Perspectives" at http://www.renewableenergystocks.com/PL/.
According to Mr. Lynch, "Certainly to say that solar stocks were hot in 2007 is an understatement. Solar stocks probably, on average, outperformed the averages by 50 fold so far in 2007. This has been a GREAT year for solar stocks and it is just the beginning. The solar industry is currently at the very early stages of its growth curve and the future will be even brighter."
Tom M. Djokovich, CEO of XsunX (OTCBB: XSNX) explains, "With the worldwide rise in energy prices, PV prices are now closer to conventional energy prices than ever before. Currently, there's abundant demand for solar modules at prices between $3.00 to $4.00/watt and thin film PV offers even lower price points. PV could be a significant player in the energy market at only $2 per watt but the industry will need to scale significantly to me the demand for lower priced PV. That's why we're working to position XsunX as a large scale manufacturer of thin film PV."
Evergreen Solar Inc (NasdaqGM:ESLR) shares moved December 13th after UBS Investment Research initiated a "Buy," and had an after hours spike that continued into Friday's market on news that it that it has signed a ten-year polysilicon supply agreement with Silicium de Provence S.A.S. "Silpro". Calyon Securities analyst Kelly Dougherty also upgraded Evergreen to "Buy"
from Add. She noted in regards to the new Energy Bill, "The watered down bill should not have a significant impact on US demand, since domestic solar demand is really driven at the state level."
China Sunergy Co., Ltd. (NASDAQ: CSUN ), a solar cell manufacturer in Nanjing, China, announced news it had entered into a supply agreement with asola Advanced and Automotive Solar System GmbH , a German module manufacturing company. China Sunergy said it will supply 10.2MW of solar cells to asola during 2008.
First Solar, Inc. (NasdaqGM: FSLR), with a 52 week range of $26.54 to $256.45, closed up $3.34 on Friday and was rated a BUY on Dec13th by UBS.
For investors wanting to know if the solar stock run is over, the number of analyst upgrades across the sector would indicate -"no"!
The dramatic 52 week range of some of the well- known solar stocks also evidences the growing global investment moving into this sector.
(As of December 14, 2007)
LDK SOLAR CO ADR (NYSE:LDK) - $22.27 - $76.75, SUNPOWER CORPORATION (NasdaqGM: SPWR) $35.40 - $164.49, CANADIAN SOLAR INC. (NasdaqGM: CSIQ) $ 6.50 - $ 24.83, SOLARFUN POWER HOLDI (NasdaqGM: SOLF) $ 8.22 - $31.80, AKEENA SOLAR INC (NasdaqCM: AKNS) $ 8.22 - $31.80, YINGLI GRN ENGY ADR (NYSE:YGE) $ 10.48 - $39.20, JA SOLAR HOLDINGS (NasdaqGM: JASO) $ 16.17 - $72.06.
(OTCBB: XSNX). XsunX, Inc. has a 52 week range of $ 0.26 - $0.66.
About Featured Showcase Solar Company XsunX: (Advertisement) Based in Aliso Viejo, Calif., XsunX is developing amorphous silicon thin film photovoltaic (TFPV) solar cell manufacturing processes to produce TFPV solar modules. To deliver its products the Company has begun to build a multi- megawatt TFPV solar module production facility in the United States to meet the growing demand for solar cell products used in large scale commercial projects, utility power fields, and other on-grid applications. Employing a phased roll out of production capacity, it plans to grow manufacturing capacities to over 100 megawatts by 2010. http://www.xsunx.com/ More info on XsunX, Inc. (OTCBB: XSNX) can be found on our media profile at:
http://www.investorideas.com/co/xsnx/default.asp
About Our Green Investor Portals:
www.RenewableEnergyStocks.com® is one of several green investor portals within Investorideas.com and provides investors with stock news, exclusive articles and financial columnists, audio interviews, investor conferences, Blogs, and a directory of stocks within the renewable energy, clean tech and fuel cell sectors.
Disclaimer: Our sites do not make recommendations. Nothing on our sites should be construed as an offer or solicitation to buy or sell products or securities. We attempt to research thoroughly, but we offer no guarantees as to the accuracy of information presented. All Information relating to featured companies is sourced from public documents and/ or the company and is not the opinion of our web sites. This site is currently compensated by featured companies, news submissions and online advertising. * XsunX has entered into an online featured showcase company agreement as of December 2007 and compensates the website $5000 per month.
www.InvestorIdeas.com/About/Disclaimer.asp
For more information contact:
Dawn Van Zant 800.665.0411
Email: dvanzant@investorideas.com,
Source: RenewableEnergyStocks.com, XsunX
Featured Product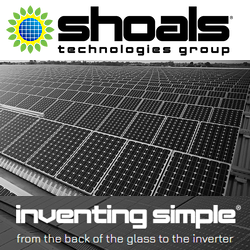 Inventing Simple® isn't just a slogan to us, it's a way of life. Using simple plug-and-play ideology, we revolutionized solar installations in 2003 with our Interconnect System™. Our harnessing system is now the gold standard EPC's use around the world. By using simple ideas, we are making solar energy a more affordable and clean power source for future generations.