The Global Drive for Electric Vehicles; How ZAP, Tanfield Group Plc, GM, Zenn, Bolloré and Google are Driving a Global Shift
POINT ROBERTS, WA and DELTA, BC - January 14, 2008 www.RenewableEnergyStocks.com, a leading investor news and research portal for the renewable energy sector within Investorideas.com, presents a sector close- up on Electric Vehicles and green automotive stocks. From the Consumer Electronics Show, where GM showcased electric vehicles, to the Detroit Auto Show, the color for cars this year is "green" and electric vehicles are getting their share of attention. The market for electric vehicles is going global, with the number of players on the rise.

Venture Beat just published an article looking at " 27 electric cars companies ready to take over the road' including ZAP's (OTCBB: ZAAP) Xebra Sedan and Zenn Motor's (News, Quote ) Zenn.
http://venturebeat.com/2008/01/10/27-electric-cars-companies-ready-to-take-over-the-road/
ZENN Motor Company, a Canadian based manufacturer of electric vehicles, announced in November that Transport Canada had confirmed that its 100% electric, "ZENN" vehicle met and/or exceeded all standards of Canada's low-speed vehicle class.
"The interest ZAP (OTCBB: ZAAP) has been receiving for its electric car business has been global," said ZAP CEO Steve Schneider. "In the next two weeks ZAP has meetings with potential partners, technology companies, banks, investors, and distribution partners on four continents. There is so much interest we are discussing branching out of passenger cars into other vehicles like trucking and public transportation."
Schneider noted that he has meetings to further a new joint venture with Youngman Automotive, one of China's largest manufacturers of buses and trucks. He is also traveling to Dubai, where ZAP recently formalized a relationship with Al-Yousuf Automotive, one of the largest automotive distributors in The Middle East.
Dan Jenkins, Media Relations Manager of The Tanfield Group Plc (TAN.L), listed on the Alternative Investment Market of the London Stock Exchange, provided global insight with the following commentary to Renewableenergystocks.com: "This market is very much demand driven, because major fleet operators are in a win-win situation - our vehicles reduce their carbon footprint and eliminate air pollutants, while also offering a benefit to the bottom line.
"In 2007 we launched the Newton and Edison vehicles, developed the market and sold seed vehicles into blue chip fleets, while internally we moved from effectively bespoke vehicle manufacture, to a volume automotive assembly model."
"This has laid the groundwork for us to build up to 1,500 vehicles for the UK and Europe in 2008 and up to 1,000 for the North American market. Going forward, management's vision is to reach 10,000 vehicles per annum by 2010. This jump in production provides the fleets of vehicles required by customers who have either recently completed or are going through the process of assessing our vehicles. "
"Winning repeat business from household names like TNT, DHL and Sainsbury's Online, has helped move us to the next level, as new customers feel this validates our product and are happy to order fleets without first buying smaller numbers of trial vehicles."
"The electric vehicle is ideal for the urban commercial fleet operators for a number of reasons. Firstly, fleet managers can achieve significant whole life cost savings over the equivalent diesel vans or trucks, providing a benefit to the bottom line."
"The diesel-powered truck or van is designed for steady, constant speeds over medium to long distances and performs well in this field. "
"But the stop-start nature of city driving is precisely the worst environment for a diesel engine, both in terms of tailpipe or exhaust emissions and in terms of economic efficiency for miles per gallon."
"Conversely, the electric van or truck actually benefits from these stop-start conditions, as the regenerative braking puts power back into the batteries every time the vehicle halts. And by being zero emission at the point of use, it also provides a 100% reduction in air pollution. "
Rick Wagoner, General Motors (News, Quote) Chairman and CEO, made headlines at the Consumer Electronics Show, as the first automotive CEO to present a keynote address, discussing their Cadillac fuel-cell concept and the range-extended electric Chevrolet Volt. According to a recent press release from the Company, "GM has a goal of reducing oil consumption and greenhouse gas emissions," said Tom Stephens, GM Group Vice President, Global Powertrain and Global Quality. "GM's commitment to improving fuel economy, reducing vehicle emissions, and developing electrically driven vehicles is not a short-term strategy. We're in this game for the long term. We see energy and environmental leadership as a critical element of GM's ongoing turnaround plan and a key part of our business strategy."
Bolloré (News, Quote ) and Pininfarina recently announced they are teaming up to create a 50/50 joint venture to produce a 100% electric vehicle. The vehicle will be marketed under the Pininfarina brand. The total capital investment is estimated at 150 million euros. The vehicle will be manufactured in Italy and will benefit from Pinninfarina?s extensive track record in design and the production of top-of-the range vehicles. It will be equipped with the revolutionary Lithium Metal Polymer battery developed by the Bolloré Group.
Google (News, Quote ) is helping promote interest in electric cars with RechargeIT, (http://www.google.org/recharge/) an initiative within Google.org's Climate Change Program with goals of accelerating the adoption of plug-in hybrid electric vehicles and vehicle-to-grid applications.
For investors following alternative fuel and fuel efficient technologies, RenewableEnergyStocks.com features a directory of renewable energy stocks including biofuel, and Electric Vehicle (EV), battery technology and related stocks.
About Featured Showcase Company, Electric car pioneer ZAP (OTCBB: ZAAP):
ZAP has been a leader in advanced transportation technologies since 1994, delivering over 100,000 vehicles to consumers in more than 75 countries. At the forefront of fuel-efficient transportation with new technologies including energy efficient gas systems, hydrogen, electric, fuel cell, ethanol, hybrid and other innovative power systems, ZAP has a joint venture to manufacture electric and hybrid vehicles with Youngman Automotive Group, one of China's leading manufacturers of buses and trucks. ZAP is developing a high-performance crossover SUV electric car concept called ZAP-X engineered by Lotus Engineering. ZAP is also developing a new generation of vehicles using advanced nanotech batteries with Advanced Battery Technologies. The Company recently announced a strategic partnership with Dubai-based Al Yousuf Group to expand its international vehicle distribution. ZAP also makes an innovative, new portable energy technology that manages power for mobile electronics from cell phones to laptops.
About Our Green Investor Portals:
www.RenewableEnergyStocks.com® is one of several green investor portals within Investorideas.com. The green investor portals are hosting the upcoming free online investor conference, "Insight into Global Green Investing Trends and Opportunities in Solar, Wind, Biofuel, Green Transportation, Water and More", March 21, 2008.
Disclaimer: Our sites do not make recommendations. Nothing on our sites should be construed as an offer or solicitation to buy or sell products or securities. We attempt to research thoroughly, but we offer no guarantees as to the accuracy of information presented. All Information relating to featured companies is sourced from public documents and/ or the company and is not the opinion of our web sites. This site is currently compensated by featured companies, news submissions and online advertising. Disclosure: ZAP currently pays the equivalent of two thousand five hundred in 144 shares and has provided promotional EV's for the Greentech Investor Contest. www.InvestorIdeas.com/About/Disclaimer.asp
For more information contact:
Dawn Van Zant 800.665.0411
Email: dvanzant@investorideas.com,
Source: RenewableEnergyStocks.com, ZAP, Tanfield Group Plc
Featured Product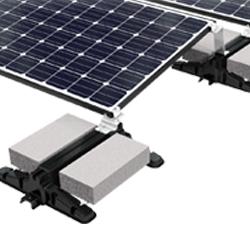 The Power Railâ"¢ Commercial Mounting System is designed with the professional PV solar installer in mind. Both the XD/UD and LD/MD rails feature single tool assembly with the revolutionary patented RADâ"¢ Lock-in-Place bolt for fast and secure module clamping. The high strength marine-grade aluminum rails include an integral wiring channel for securing cables and providing a professional finish.