During the 2007 AHR Expo in Dallas, HVAC Excellence and Ferris State University agreed to work together to address the "Green" educational needs of the HVACR industry.
The first section of the program resulting from the partnership is "Green Mechanical Awareness". Green Mechanical Awareness was pilot tested at the United Association of Journeymen and Apprentices annual instructors' workshop and through workforce development in Louisiana. It was also agreed upon to develop additional technical training modules covering an array of Green Mechanical issues. The first technical module "Combustion Analysis" has been completed and covers the maximization of furnace and boiler energy efficiency.

Every day the word "Green" enters our lives. We read about Green in the news, we see it on TV and we hear about it on the radio, but what is it and how does it affect us?
When it comes to mechanicals, (HVAC, Plumbing and Electrical) "Green" means maximizing the energy efficiency of existing equipment, specifying the most efficient systems available for the application and the available budget, using renewable and sustainable fuel sources, and conserving water.
Both commercial and residential owners want to be Green and reduce energy consumption. In fact, everyone wants to reduce their energy costs.
Consumers want the members of our industry to be aware of the various methods employed in reducing energy consumption and conserving water. They want contractors and technicians who are knowledgeable about energy conserving methods and new technologies.
The program is available to corporate trainers of manufacturers', distributors, contractors, etc. as well as training organizations and traditional technical educators. The program has been adopted by the UA, the Green Mechanical Council, the Carbon Monoxide Safety Association, and the AC&R Safety Coalition for use in their educational programs.
Ferris State University and HVAC Excellence, two of the Founding Members of the Green mechanical Council, have agreed to donate a potion of the revenues derived from this program to the Green Mechanical Council.
For additional information about the Green Awareness program and its' technical modules contact HVAC Excellence at 1(800) 394-5268, or Ferris State University at 1(866) 880-7674.
Featured Product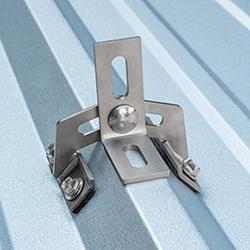 QuickBOLT Low Profile QuickBOLT with Microflashing™ is the industry's affordable, UL Certified Asphalt Shingle mounting system. The Microflashing™ is compressed by the collar on the bolt to create a water-tight seal. With an installation time of less than one minute, the Low Profile QuickBOLT allows installers to complete more jobs.