Biofuel Markets Are Booming Worldwide. More Then 2000 Plants Exist In 2007 Worldwide. 8.500 billion US Dollar worth of Investments were made worldwide in biofuel plants up to 2007. China allone over 100 billion us dollar per year for new plants. Over 60 billion liter biofuel produced 2007
Biofuel markets are booming worldwide. More then 2000 plants exist in 2007 worldwide, high growth to 2025

8.500 billion US Dollar worth of Investments were made worldwide in biofuel plants up to 2007. The investments in China are estimated to be over 100 billion us dollar per year for new plants
New Study by Helmut Kaiser Consultancy see: http://www.hkc22.com/biofuel.html
The biofuel markets are booming worldwide, but many technologies and systems are still open. Biofuel is shaping the future strategies of automobile industry and manufacturers, biomass producers as well as suppliers. 8.500 billion US Dollar worth of Investments were made worldwide in biofuel plants up to 2007.
The government policies to promote biofuel have certain targets for future shares or amounts of biofuel blending biofuels with conventional vehicle fuels, in 15 developing countries in Latin America and Asia, and in 39 states in Canada, India, and the US, Europe and China.
In the long term China will become a leading market for biofuel. The consumption of fuel has increased by 20 to 30 percent annualy. The investments in China are estimated to be over 100 billion us dollar per year for new plants.
About 50 billion liters ethanol and 11 billion liters biodiesel were produced in 2007 with growth rates of
over 15 percent until 2025. More then 2000 plants exist in 2007worldwide and thousands will be build in the next years.
65 percent are ethanol plants, 35 percent for biodiesel and others in 2007. Energy security, environment protection and climate change are the key driving factors for this development.
Existing technologies and systems of plants will partly change and processes will be cheaper. The biomass used
will be optimized to produce higher output and need less water. The biofuel industry is a high tech industry with
million of jobs and new technologies and supplier along the value chain.
for more: hkc22@bluewin.ch
Featured Product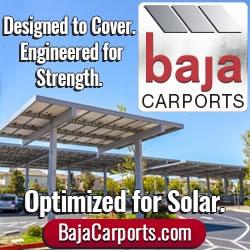 Baja Carports offers an extensive solar support system product line customized to customers' site specifications by in-house engineers, meeting their parking lot coverage, plus optimal PV production needs. Baja's Full Cantilever Tee is often paired with its Semi and Full Cantilever carports to meet live/loads up to 60psf and wind speeds to 160mph. All Baja products are pre-fabricated, bolted connections, pre-galvanized structural steel for fast on-site installation and project aesthetic requirements."