Inventor of multiple *Blackberry® patents to help accelerate portable solar power applications
Steve Carkner Appointed to Board of Directors for ICP Solar Technologies

Inventor of multiple *Blackberry® patents to help accelerate portable solar power applications
Montreal, Canada, February 12, 2008 - ICP Solar Technologies Inc. (OTCBB: ICPR, FRANKFURT: K1U.F), a developer, manufacturer and marketer of solar panels and products, today announced that Steve Carkner, P. Eng, Founder and Chief Executive Officer Panacis Medical has been appointed to the Board of Directors.
Sass Peress, ICP Chairman and Chief Executive Officer commented, "We are excited to have Steve join our board of directors. His experience and record of exceptional product innovation and commercialization with companies like Research in Motion and Energy Visions will prove invaluable as Steve has completed a number of key products in the portable power and environmental spaces including the successful development of power backup systems for the military, solar powered robotics and point-of-use consumer power monitors. We look forward to working with him as we pursue the exciting portable power market opportunities that lie ahead of us."
"I look forward to working with the ICP management team," commented Mr. Carkner. "For a company to succeed, it needs to start with quality people, innovative ideas, and a lot of focused effort. ICP Solar has all these key ingredients in place and I look forward to helping guide the company's rapid growth."
Prior to founding Panacis, Mr. Carkner was the Director of Product Development at Research In Motion (RIM). He was instrumental in the growth of RIM from a small 12-person consulting company into a multi-billion dollar wireless-focused corporation. He is listed as an inventor on a number of RIM's patents related to the *Blackberry® wireless pager and on several dozen patents world-wide. Mr. Carkner also took part in the marketing and business development of the corporation and was a key member of the team that guided RIM from pre to post IPO.
Mr. Carkner was a founder of Canada's National Angel Organization and was one of the youngest elected members of the Professional Engineers of Ontario council. His products have won a host of awards and have been featured in places like Popular Science and the Smithsonian Institute of Technology.
*BlackBerry is the exclusive property and trademark of Research In Motion Limited.
About ICP Solar Technologies, Inc.
ICP Solar is a developer, manufacturer and marketer of solar panels and solar cell based products and building materials. Through the application of next-generation technologies and use of proprietary intellectual design the Company aims to be the industry's innovation leader. For the past 19 years, ICP Solar has led the consumer market through innovation and has now begun to apply that same philosophy to the OEM, rooftop and power generation segment of the solar industry. ICP Solar's management has over 50 years of experience in the renewable energy sector. ICP Solar is the North American licensee of the Coleman® brand in the solar charger category. The company's headquarters are located in Montreal, Canada, with additional locations in the USA, Spain, Ireland and France.
Corporate information may be found at www.icpsolar.com
The forward-looking statements herein include, but are not limited to, the expected expansion of our solar solutions into Europe Middle East, Asia and Africa. Our actual results may differ materially from those implied in these forward-looking statements as a result of many factors, including, but not limited to, overall industry environment, customer acceptance of our products, delay in the introduction of new products, further approvals of regulatory authorities, adverse court rulings, production and/or quality control problems, the denial, suspension or revocation of permits or licenses by regulatory or governmental authorities, termination or non-renewal of customer contracts, competitive pressures and general economic conditions, and our financial condition. These and other risks and uncertainties are described in more detail in our most recent SB-2 filing with the Securities and Exchange Commission. Forward-looking statements speak only as of the date they are made. We undertake no obligation to update or revise such statements to reflect new circumstances or unanticipated events as they occur, except as required by applicable laws, and you are urged to review and consider disclosures that we make in the reports that we file with the Securities and Exchange Commission that discuss other factors germane to our business.
Contact:
ICP Solar
Laurent Lafite, 514-270-5770
Llafite@icpsolar.com
or
Lippert/Heilshorn & Associates
Jody Burfening/Elric Martinez, 212-838-3777
emartinez@lhai.com
Featured Product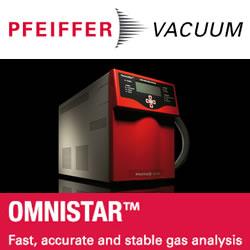 The Pfeiffer Vacuum OmniStar benchtop analysis system offers you a compact footprint, powerful software and Ethernet connectivity. It's the optimum solution for many real-time gas analysis applications. With the OmniStar, Pfeiffer Vacuum offers you a complete solution for gas analysis, in chemical processes, semiconductor industry, metallurgy, fermentation, catalysis, laser technology and environmental analysis. The turnkey OmniStar gas analysis system consists of heated, temperature-regulated gas inlet system, Quadrupole mass spectrometer, a dry diaphragm vacuum pump and HiPace turbopump. Unlike competing methods such as FTIR, OmniStar is suitable for qualitative and quantitative analysis of most gases.