Materials for use in thin-film and organic photovoltaics (PV) will reach $3.8 billion by 2015, according to a new study by NanoMarkets, an industry analyst firm.
Glen Allen, VA Materials for use in thin-film and organic photovoltaics (PV) will reach $3.8 billion by 2015, according to a new study by NanoMarkets, an industry analyst firm.

According to the NanoMarkets report, Materials Markets for Thin-Film and Organic Photovoltaics, the thin-film and organic photovoltaic market is becoming a source of opportunity for both traditional electronic chemicals suppliers and innovative materials firms.The report also states that innovations at the material level will have a profound impact on the future of PV as a whole.
Some of the main points in the report include:
•Thin-film PV is no longer a niche consumer of electronics materials. By 2015 amorphous silicon PV will use more than $900 million in silane gas and other silicon-based materials. A few years ago producers of crystalline silicon found that conventional photovoltaics was a major new business opportunity. Thin-film PV is bringing the same kind of opportunity to the leading suppliers of electronic chemicals
•Getting the Copper indium gallium selenide (CIGS) mix right will be key in the market. CIGS promises all the advantages of thin-film PV, but with conversion efficiencies almost as high as conventional PV. Whether or not CIGS can keep this promise will depend on innovative materials firms. The CIGS industry is looking for better formulations of selenium that avoid the volatility problems experienced in high temperature manufacturing processes. NanoMarkets believes that such problems will be overcome and that by 2015, the CIGS PV sector will consume a total of $1.1 billion in materials.
•New materials are the key to PV. In the near future, thin-film materials will provide entirely new directions for PV. Silicon inks will soon be available that will combine the manufacturability advantage of organic PV, but with much higher conversion efficiencies. Slivers of crystalline silicon have been developed that combine the high efficiency of crystalline silicon with the flexibility and ease of fabrication of thin film; and this technology is already being used in a pilot plant. Further off lies the commercialization of inorganic nanocrystals designed to overcome the one electron per solar photon limitation in solar energy conversion. Cadmium selenide, cadmium sulfide and cadmium telluride nanocrystals have all been employed in this way in the lab and hint at a thin-film PV of the future with energy conversion ratios well into the double digits.
About the report:
Materials Markets for Thin-Film and Organic Photovoltaics provides a complete analysis of the commercial opportunities in thin film and organic PV materials markets. The report includes detailed eight-year forecasts of thin-film and organic materials broken out by material functionality and chemistry, as well as reviews of the latest research and the corporate strategies of firms active in the sector. Photovoltaic technologies covered include amorphous silicon, cadmium telluride, CIGS, dye cells and pure organic approaches. Key firms mentioned in the report are: Air Liquide, BASF, Dow Corning, Evonik, Indium, Konarka, Linde, Nanosolar, Mitsui Toatsu Chemicals, Nanoco, Plextronics, Praxair, REC, Redlen, Sanyo, Sputtering Materials, Sulfurcell, Umicore and Voltaix.
About NanoMarkets:
NanoMarkets tracks and analyzes emerging market opportunities in electronics created by developments in advanced materials. The firm has published numerous reports related to organic, thin film and printable electronics materials and applications and maintains a blog at www.nanotopblog.com that comments on industry trends and events. NanoMarkets research database is the industry's most extensive source of information on thin film, organic and printable (TOP) electronics.
Visit www.nanomarkets.net for a full listing of NanoMarkets' reports and other services.
Featured Product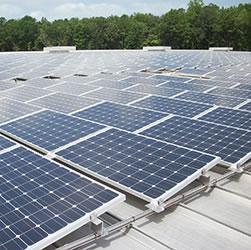 The Power Rail™ Commercial Mounting System is designed with the professional PV solar installer in mind. Both the XD/UD and LD/MD rails feature single tool assembly with the revolutionary patented RAD™ Lock-in-Place bolt for fast and secure module clamping. The high strength marine-grade aluminum rails include an integral wiring channel for securing cables and providing a professional finish.