Hydrogen infrastructure will be on the table later this month at the NHA Annual Hydrogen Conference when Larry Burns, Vice President of Research and Development for General Motors, makes a Keynote presentation of GM's newly released White Paper, "Hydrogen Fueling Infrastructure Assessment."
What is the true economic viability of the hydrogen-powered vehicle? Can a fueling infrastructure actually be created in the United States that supports the front-loaded demands of such a fledgling industry, while still being feasible on the supply side? Is it possible to effectively address the need for abundant fueling stations at the outset, even when initial demand is low? What will it take to make hydrogen an affordable, mainstream alternative to oil?

Those weighty questions—and more—will be on the table later this month at the NHA Annual Hydrogen Conference in Sacramento, California, when Larry Burns, Vice President of Research and Development for General Motors, makes a Keynote presentation of GM's newly released White Paper, "Hydrogen Fueling Infrastructure Assessment." Participants can look forward to in-depth analysis and answers from Burns, who will present the findings of the paper and update his audience on continuing efforts to speed the evolution of a hydrogen infrastructure. He will also focus on California, where fuel-cell prototypes have already been deployed to selected households.
Of note is the position taken in the Paper, which after exhaustive research and analysis, shows a continued strong commitment to hydrogen and fuel cells while GM also pursues other alternative technologies. The paper compares hydrogen's retail cost with gasoline, and confirms the feasibility of pollution-free hydrogen production from a variety of renewable energy sources. One of the paper's main conclusions recognizes that "the hydrogen infrastructure for automobiles is economically viable and doable."
Burns joins several industry thought leaders as key presenters at the 2008 Conference, which along with Hydrogen Expo US, will be in Sacramento at the end of March. This year's program, "Ramping Up Commercialization," will focus on the challenges and opportunities in early markets, and explore ways to advance the commercial use of hydrogen products that are currently available in the marketplace.
- MORE -
Keynote sessions address three important areas: Government as Early Adapters, Early Markets and Vehicles and Infrastructure. Almost 50 parallel sessions cover leading-edge topics such as "Moving Hydrogen Vehicles in Commercialization," "Advanced Processes for Nuclear Production of Hydrogen," "State and Regional Programs and Plans," and much more.
In addition to Burns, guest presenters include: William Anderson, Assistant Secretary of Installation, Logistics and Environment, U.S. Air Force; Paul Brubaker, Administrator of Research and Innovative Technology Administration, U.S. Department of Transportation; Duncan MacLeod, Global Vice President, Shell Hydrogen; Catherine Dunwoody, Executive Director, California Fuel Cell Partnership; and James Heathcote, CEO, ITM Power.
The three-day conference runs from Sunday, March 30 to Thursday, April 3, with Conference Sessions beginning Monday. For a complete listing of Keynotes and parallel sessions, and to register, visit www.hydrogenconference.org.
# # #
About the NHA Annual Hydrogen Conference with Hydrogen Expo US
The NHA Annual Hydrogen Conference is the largest hydrogen conference in the US. Now in its 19th year, it is also the longest running annual hydrogen conference in the world, attracting more than 1,500 business professionals and expo visitors every year, who gather to learn about the latest advances, network with colleagues and exchange ideas. The accompanying Hydrogen Expo US offers 150 exhibits, three industry tours, a Live Demo Area with operating fuel cells and a Ride and Drive that features over a dozen vehicles and buses showcasing the latest in hydrogen and fuel-cell technology. More information may be obtained by visiting www.HydrogenConference.org
About the National Hydrogen Association
The National Hydrogen Association (NHA) is the Nation's premier hydrogen trade organization led by over 100 companies dedicated to supporting the transition to hydrogen. Efforts are focused on education and outreach, policy, safety and codes and standards. Since 1989, the NHA has served as a catalyst for information exchange and cooperative projects and continues to provide the setting for mutual support among industry, research and government organizations. Find out more at: www.HydrogenAssociation.org
Featured Product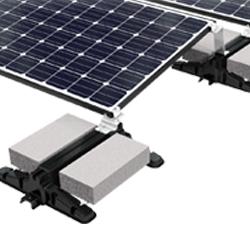 Preformed Line Products introduces the POWER MAX Ballasted Roof Mounting System. The POWER MAX solar mounting system is engineered to maximize energy output on commercial flat roofs. Developed with the professional installer in mind, this system offers adjustable inter-row spacing in the field of up to 11 inches. It features 50% fewer components and a simplified design resulting in faster assembly rates and labor savings on every project. Available in a flush mount, 5Ëš or 10Ëš tilt or higher density dual tilt design, the POWER MAX base arrives stacked on pallets providing easier transport to the roof. Engineered as a fully ballasted, non-penetrating system, it accepts standard concrete blocks and is qualified by wind tunnel testing.