The Renewable Energy Centre today released a statement in response to reports by the Guardian newspaper that the government is looking for ways to meet its energy targets through investment in renewable projects outside of the UK.
The reaction has come as a result of a leaked speech delivered by business minister, Lady Vadera at a meeting of the energy council of ministers and has sent shockwaves through the UK renewable energy sector.

The Renewable Energy Centre alongside other organisations such as WWF, Greenpeace and BWEA warned that to allow the UK to meet its targets this way could be catastrophic for the UK renewables industry. The Centre reported last week that it was clear that the government was pushing nuclear power as a primary solution to the UK's energy needs and although it was a necessary solution it should only form part of the energy mix. There was however deep concern that to then offset the UK's internal emissions targets with foreign projects would further curtail the development of other forms of renewable energy, such as wind and wave power. The UK has a vast, untapped supply of wind and wave power but the industry is struggling to find the investment needed to upgrade the grid and push through lengthy planning processes.
Dale Vince, Chief Executive of Ecotricity which currently has the largest number of wind farms in the UK, was quoted as saying "This would kill renewable energy in Britain. It makes a mockery of any attempts to address climate change. The idea that we can build wind farms or other renewable energy projects [abroad] and then offset them against the UK target is outrageous."
The Renewable Energy Centre said that Lady Vadera's comments and the ongoing leaning of the government towards carbon credits in order to fulfil the UK's energy targets, would only serve to keep the UK from taking the lead in proactively fighting climate change and becoming self sufficient in terms of energy supply.
Richard Simmons, Managing Director at The Renewable Energy Centre said "It is time for the government to get serious about UK energy targets. Instead of recognising that the UK has so much to offer in terms of renewables, the government is simply looking for easy ways to meet emission targets without doing anything practical. What kind of message does this send to the UK public and the UK renewables industry? In my view there is no excuse for not fully developing and exploiting technology and utilising our wind and wave resources.
"I can not understand the reluctance and obvious reticence within the Brown administration to protect the UK from exposure to a lack of energy security or promote a new industry in renewables and potential export market to help the overall economy of the country."
The Renewable Energy Centre in its statement said that British industry had already lost its lead in the global arena for car manufacture, ironmongery and pottery but now had the opportunity to become leaders in the development of renewables and associated technologies. It said the issue was not simply about EU targets, but about pushing the UK economy into a new global market where it could become a primary supplier and provider of renewable technology.
The Renewable Energy Centre said it would continue to lobby for further investment in the renewable energy sector and support other organisations to challenge the government on its policy for renewable energy. The Centre concluded by saying that it was dedicated to promoting the industry through its website and that it was imperative to ensure that the government did not renege on its commitment to the renewables sector or to the impact of climate change.
For more information visit:
http://www.therenewbleenergycentre.co.uk
http://www.therenewableenergycentre.co.uk/press-room
http://www.therenewableenergycentre.co.uk/wind-power/
http://www.therenewableenergycentre.co.uk/wave-and-tidal-power/
http://www.bwea.com
Ends
###
Notes for Editors
The Renewable Energy Centre: Saving Money, Saving Energy and Saving the Planet
www.therenewableenergycentre.co.uk
The Renewable Energy Centre is committed to informing all online users about energy saving and renewable energy in order to:
• increase public awareness through accurate and informative resources
• create business opportunities throughout the UK through its' local and national directories.
For more information:
Contact: Angela Gallacher (Head of Press & Marketing)
Email: info@therenewableenergycentre.co.uk
Address: 1 Alpha House, Farmer Ward Road, Kenilworth, Warwickshire, CV8 2ED
Telephone: 01926 865835
Featured Product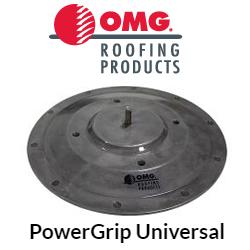 Eliminate Solar Rack Ballast and Reduce Rooftop Material Handling. PowerGrip™ Universal (PGU) is a commercial roof mount system designed to secure solar racks and other equipment to any type of commercial roofing system. PGU provides a secure connection directly to the roof deck or structural members and is designed to reduce or eliminate ballast in solar racking systems, so there's less weight on the roof and less material handling. Made of heavy-duty cast aluminum, PGU units include a base ring which is secured through the roofing cover and into the structural roof deck, and a waterproof top plate.