SolarCity today announced a new financing program - SolarLease - the first residential financing program to be provided directly by an installer offering homeowners an affordable way to go solar without significant upfront costs.
SolarCity Gives Homeowners a New Lease on Solar

New customer financing eliminates high-cost barriers to solar installations
FOSTER CITY, CA - April 2, 2008 — SolarCity, the nation's leading provider of solar energy systems, today announced a new financing program backed by Morgan Stanley that will change the way residential solar is purchased. SolarLease, the first residential financing program to be provided directly by an installer, offers homeowners an affordable way to go solar without significant upfront costs, and adds exclusive benefits not available with cash purchases.
SolarLease makes solar power an economically-attainable option for most homeowners. Because SolarCity, a commercial entity, owns the solar panels, the company can gain access to commercial tax credits and apply the savings to customer financing. Solar energy financing therefore becomes significantly more affordable, as monthly payments for most customers are less than their previous utility charges. In addition, the upfront payment is significantly less: a four-bedroom homeowner can install a solar system for an initial payment of about $2,000 - previously, the same system would require a $25,000 cash investment. SolarLease makes going solar easier as well as more affordable - with financing, installation, performance guarantees and lifetime support all from one vendor.
"We have wanted to go solar for a long time, but haven't been able to afford to own a system ourselves," said Craig Volpe, an early leasing customer. "With SolarLease, we were given the choice to take advantage of solar energy and have the opportunity to still make other investments and home improvements," said Volpe.
California is a vast and untapped market for solar: currently, less than one percent of California homeowners have installed solar electric systems. The SolarLease program has the scale to support thousands of residential solar installations and will rapidly accelerate the number of installations completed in the last 20 years.
"Customers have called for alternatives to solar purchasing, and our innovations in financing will allow them to get the benefits of renewable energy quickly, easily and affordably," said David Arfin, Vice President of Customer Financing at SolarCity.
"By eliminating the significant upfront capital requirement, solar power is now a truly affordable energy option," said Lyndon Rive, the company's Founder and Chief Executive Officer. "We believe this will spark a great wave of solar adoption. Dollar for dollar, if you had the option of using clean solar power or dirty power, which would you choose?" he said.
In addition to SolarCity's deployment strength and installation expertise, SolarLease customers will greatly benefit by the company's ability to directly administer product financing through a financing partnership with Morgan Stanley.
"We are excited about this joint venture opportunity and to help make solar energy an economically viable alternative to the residential consumer. This transaction will allow the consumer to source environmentally friendly power without having to make a large captial investment," said Aaron Lubowitz, Managing Director at Morgan Stanley.
About SolarCity
Headquartered in the heart of Silicon Valley, CA SolarCity matches advanced solar power technology with a suite of installation services. Recently honored as an Aspen Energy and Environment Award winner, SolarCity invests in the innovation and implementation of environmental energy solutions. The company's comprehensive offering removes the technical, regulatory, and financing barriers to solar power, helping customers make smart renewable energy choices that save money. Boasting the industry's most experienced team in solar systems design and installation and a proven track record of bringing new technologies to market, SolarCity is uniquely positioned to make solar power a smart choice for home owners and businesses. For more information, go online at www.solarcity.com.
Featured Product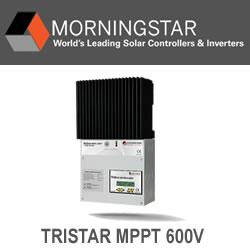 Morningstar's TriStar MPPT 600V charge controller leverages Morningstar's innovative TrakStar™ MPPT technology and our 20+ years of power electronics engineering excellence, to enable the widest input operating voltage range available from a solar array, wind turbine or hydro input. This controller's standard and DB versions are for off-grid applications, and the TR versions were developed to enable retrofitting grid-tied systems with battery backup.