Today, eSolar', a producer of scalable solar thermal power plants, announced that is has closed $130 million in funding from Idealab, Google.org, Oak Investment Partners, and other investors for the construction and deployment of pre-fabricated power plants.
eSolar Announces Breakthrough Pre-Fabricated Solar Power Plants

Raises $130 Million from Idealab, Oak, Google to Accelerate Deployment
Pasadena, Calif. - April 21, 2008 - Today, eSolar', a producer of scalable solar thermal power plants, announced that is has closed $130 million in funding from Idealab, Google.org, Oak Investment Partners, and other investors for the construction and deployment of pre-fabricated power plants. Designed to address the complex issues surrounding large or utility-scale power projects, eSolar's distributed solar thermal plants achieve economies of scale at 33 MW, and are modularly scaled to fit the needs of large and small utilities.
"The eSolar' power plant is based on mass manufactured components, and designed for rapid construction, uniform modularity, and unlimited scalability," said Asif Ansari, CEO of eSolar. "Rather than over-engineering the solution, eSolar's smart scalable solar architechture targets what we see as the four key business obstacles facing the sector: price, scalability, rapid deployment, and grid impact."
In order to deliver on the promise of Big Solar, the typical utility-scale installation faces huge construction costs and requires large tracts of real estate, combined with expensive transmission line improvements to bring the power out of the deserts and into the cities. eSolar's modular approach stands in direct contrast to this 'bigger is better' strategy. eSolar has replaced expensive steel, concrete, and brute force with inexpensive computing power and elegant algorithms. This new method of installing a solar power plant minimizes costly civil construction and the use of heavy equipment, dramatically reducing project cost and deployment time.
Centering on eSolar's 33 MW pre-fab form-factor, the company's modular design translates to minimal land requirements. The company's solar power plant solutions are tailored to fit local resources and produce a low environmental footprint, favoring a straightforward siting and permitting process. Myriad locations combined with a multitude of interconnection options mean that eSolar can deliver more clean, carbon free power where it is needed: near the cities and towns where it is consumed.
"eSolar's primary business goal is nothing short of making solar electricity for less than the price of coal, without subsidies," said Bill Gross, eSolar Chairman and Founder of Idealab. "This is not only attainable, but will truly change the world."
Bandel Carano, Managing Partner of Oak Investment Partners, added, "eSolar is the only cost effective solution that can deliver gigawatts of solar energy generation at market prices today, because they have developed a truly disruptive scalable solution that can be deployed rapidly."
eSolar has secured land rights in the southwest United States to support the production and transmission of over 1 GW of power. eSolar will have a fully operational power plant later this year in southern California.
About eSolar
eSolar is an Idealab company founded by CEO Asif Ansari in 2007 to develop, construct and deploy modular, scalable solar thermal power plants. eSolar's approach marries a low-impact, pre-fabricated form factor with advanced optics and computer software engineering to meet the demands of utilities of any size for clean, renewable and cost-competitive solar energy. By focusing on the key business obstacles that have characterized large solar installations from its inception - price, scalability, speed of deployment and grid impact - eSolar has developed a proprietary solution to make a dramatic reduction in the cost of solar thermal technology. eSolar is based in Pasadena, California and has 70 employees. For more information please visit http://www.esolar.com/
About Idealab
Idealab's mission is to create and operate pioneering technology companies. Founded in 1996 by entrepreneur Bill Gross, Idealab provides a broad range of operational support to its companies, allowing the operating company management teams to focus on getting to market quickly and cost effectively and to take advantage of the serial start-up experience of the Idealab team. Bill Gross and Idealab have founded companies such as eSolar, Inc., Energy Innovations, Overture Services, Inc., CitySearch, Picasa and Internet Brands. Current operating companies are providing innovative technology solutions in industries such as software, search, robotics, 3D printing and alternative energy fields. Additional information may be found at www.idealab.com.
About Google.Org
Google.org aspires to use the power of information and technology to address the global challenges of our age: climate change, poverty and emerging disease. Google invested in eSolar to create utility-scale electricity from clean renewable energy sources that is cheaper than electricity produced from coal.
About Oak Investment Partners
Oak Investment Partners is a multi-stage venture capital firm with a total of $8.4 billion in committed capital. The primary investment focus is on high growth opportunities in communications, information technology, internet new media, financial services, clean energy, healthcare services, and consumer retail. Over a 28-year history, Oak has achieved a strong track record as a stage-independent investor funding more than 435 companies at key points in their lifecycle.
Media contact:
Caroline Venza, Antenna Group for eSolar
caroline@antennagroup.com, 415-977-1939
Featured Product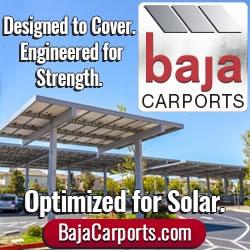 Baja Carports offers an extensive solar support system product line customized to customers' site specifications by in-house engineers, meeting their parking lot coverage, plus optimal PV production needs. Baja's Full Cantilever Tee is often paired with its Semi and Full Cantilever carports to meet live/loads up to 60psf and wind speeds to 160mph. All Baja products are pre-fabricated, bolted connections, pre-galvanized structural steel for fast on-site installation and project aesthetic requirements."