Power Solutions Answers Mayor Reed's Challenge to Solar Companies: Create a Plan for Residents to Install Solar With No Upfront Costs
SAN JOSE, CA-- April 21, 2008) - In an effort to support renewable energy production Power Solutions, a Solar Integrator in San Jose, CA, has come up with the "solar for all" program. "'Solar for All' is a program that will allow home owners to install solar electric power in their home with no money down," said Jose Radzinsky, CEO for Renewable Power Solutions Inc. dba Power Solutions. "We are very happy Mayor Reed decided to issue the challenge; we feel very strongly about helping the environment and making San Jose the biggest solar power producer in the country."

During a future press conference Power Solutions will disclose the details of the program and will be providing additional information for Homeowners.
About the Company:
Power Solutions specializes in solar energy generation, engineering, and installation of alternative energy systems for residential, commercial, governmental and non-profit needs. Power Solutions is a member of the Bay Area Green Business program, the Silicon Valley Chamber of Commerce, the Silicon Valley Leadership Group, the Solar Energy Industry Association, and the U.S. Green Building Council. Power Solutions is Diamond Certified in recognition of its excellent customer service and a California certified Small Business.
Power Solutions is a licensed electrical contractor in the State of California. The company is currently headquartered at 1190 South Bascom Avenue, # 211, San José, California, 95128. The company's website, www.solutionsforpower.com, provides more information on products and services available.
Featured Product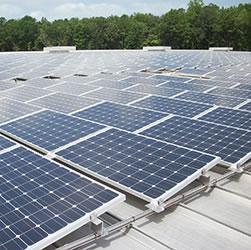 The Power Railâ"¢ Commercial Mounting System is designed with the professional PV solar installer in mind. Both the XD/UD and LD/MD rails feature single tool assembly with the revolutionary patented RADâ"¢ Lock-in-Place bolt for fast and secure module clamping. The high strength marine-grade aluminum rails include an integral wiring channel for securing cables and providing a professional finish.