Solar Stocks Help Investors Think Green as First Solar Shares Spike for Earth Day
POINT ROBERTS, WA and DELTA, BC---Apr 22, 2008 -- www.RenewableEnergyStocks.com, a leading investor news and research portal for the renewable energy sector within Investorideas.com, presents a sector close-up on solar stocks as investors think of green investing for Earth Day 2008.

For investors following solar stocks, a new solar ETF may be a diversified way to invest in and track the sector. The Claymore/MAC Global Solar Energy ETF (Market, News) tracks an index comprised of 25 global solar companies.
Renewable Energy Stocks' solar expert, J Peter Lynch, commented, "There is always the chance that the solar tax credit extensions will fail again given the dysfunctional politics currently in operation in the U.S. But even if this most negative of outcomes should come to pass, it will only delay the inevitable. The solar giant will sleep a bit longer -- but not for very much longer.
"Once America awakens, you can take all the current supply and demand projections and throw them out the window. America's active entrance into the world solar market will dramatically ramp up the demand side of the equation and mark the beginning of a massive renewable transition."
"According to the U.S. Department of Energy's international energy outlook report, worldwide demand for electricity is expected to nearly double over the next two decades," stated Tom Djokovich, CEO of XsunX, Inc (OTC BB:XSNX.OB). "When we stop for a moment on Earth Day to picture a world demanding twice the electrical power that we consume today I think it provides a sobering moment to realize that we can not continue to use our air and water supplies as a dumping ground. Alternatives such as solar power provide a solution and a clear path to helping solve our energy demand needs while creating a safer environment for all of us. This growth in demand is why XsunX is working to help fill the need for solar power alternatives. We've been working on the build-out of our first 25mega-watt thin-film solar module manufacturing facility and we're making consistent progress. We hope to announce soon the completion of several of our material supply agreements to ensure access to the materials we will need to manufacture our solar modules. Today global electricity generation represents about $1 trillion in revenues and as demand grows we plan to play a part in the long-term growth of solar and the broader electrical power industry."
In comparing renewable current energy sources, Brian C. Yerger, Research Analyst at Jesup & Lamont Securities, remarks, "We have 2 primary energy needs: Oil/gasoline used for transportation needs does not directly compete with solar, wind, and geothermal despite the (incorrect) strong market correlation. The other is coal and natural gas for electricity needs which does compete with solar, wind, geothermal and those prices, not oil, would be the better fossil fuel pricing indicators renewable energy investors should be aware of."
"As the solar industry continues to evolve, solar will become a key energy source providing not only to our homes and businesses with earth-friendly power but also providing power on a larger scale to municipalities and developing areas where electricity is limited," said Ezra Green, Chief Executive Officer of Clear Skies Solar. "At Clear Skies Solar (OTC BB:CSKH.OB), we are working to find new and unique ways to harness the power of the sun. In just the last two months we've launched our patented XTRAX® Solar Monitoring System, a proprietary Solar Power Supply (SPS) Vehicle Data Monitoring Device and the TetraPort Solar Energy Carport System that even includes independent AC power outlets to charge electric or hybrid automobiles. Our in-house research and development department will continue to work each day to find new uses for solar energy or enhance existing solar solutions in an effort to limit fossil fuel use and make solar energy a viable alternative for everyone."
Sector Close-Up as of Trading April 22, 2008: Stocks to Watch
The Claymore/MAC Global Solar Energy ETF (Market, News )
Akeena Solar Inc. (NASDAQ:AKNS) has grown to become one of the largest national installers of residential and commercial solar power systems in the United States.
Evergreen Solar Inc. (Market, News) develops, manufactures, and markets solar power products primarily in Europe and the United States.
LDK Solar ADR (Market, News) recently completed a $400 million offering of 4.75 percent convertible senior notes.
Canadian Solar Inc. (Market, News)
China Sunergy Company Ltd. (Market, News)
First Solar (Market, News) gave investors impressive gains as everyone think green for Earth Day.
SunPower Corporation (Market, News )
Yingli Green Energy Holding Company Limited (Market, News)
For investors following solar stocks, the RenewableEnergyStocks.com website provides a comprehensive list of photovoltaic and solar stocks to research.
Featured Showcase Solar Company: Clear Skies Solar, Inc. (OTC BB:CSKH.OB) through its wholly owned subsidiary, Clear Skies Group, Inc., provides full-service renewable energy solutions to commercial, industrial, and agricultural clients across the country. CSG was incorporated in 2003 and launched formal operations in 2005. During that time period, CSG developed its proprietary systems, obtained licenses and certifications, and acquired technologies that could maximize the impact of its construction expertise on the renewable energy sector. CSG has become one of the premier solar electric installation companies in the country. More info can be found on the Investorideas.com Company Showcase, or www.clearskiesgroup.com.
Featured Showcase Solar Company XsunX: (OTCBB: XSNX) Based in Aliso Viejo, Calif., XsunX is developing amorphous silicon thin film photovoltaic (TFPV) solar cell manufacturing processes to produce TFPV solar modules. To deliver its products the Company has begun to build a multi- megawatt TFPV solar module production facility in the United States to meet the growing demand for solar cell products used in large-scale commercial projects, utility power fields, and other on-grid applications. Employing a phased roll out of production capacity, it plans to grow manufacturing capacities to over 100 megawatts by 2010. More info on XsunX, Inc. can be found on our media profile at: http://www.investorideas.com/co/xsnx/default.asp or http://www.xsunx.com/
About Our Green Investor Portals:
www.RenewableEnergyStocks.com® is one of several green investor portals within Investorideas.com and provides investors with stock news, exclusive articles and financial columnists, audio interviews, investor conferences, Blogs, and a directory of stocks within the renewable energy, clean tech and fuel cell sectors.
Disclaimer: Our sites do not make recommendations. Nothing on our sites should be construed as an offer or solicitation to buy or sell products or securities. We attempt to research thoroughly, but we offer no guarantees as to the accuracy of information presented. All Information relating to featured companies is sourced from public documents and/ or the company and is not the opinion of our web sites. This site is currently compensated by featured companies, news submissions and online advertising. XsunX and Clear Skies Holdings compensate the website $5000 per month.
www.InvestorIdeas.com/About/Disclaimer.asp
For more information contact:
Dawn Van Zant 800.665.0411
Email: dvanzant@investorideas.com
Source: Investorideas.com RenewableEnergyStocks.com, XsunX, Clear Skies Holdings, Inc, Akeena Solar
Featured Product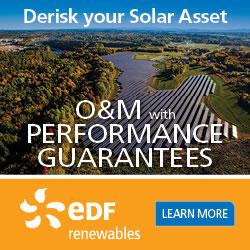 EDF Renewables offers the same innovative solutions that maximize the performance of our own 5.2 GW of installed projects. Because we're not an equipment manufacturer, our recommendations are transparent and data-driven. We cover the entire project lifecycle: from pre-commissioning support, through warranty and post warranty operation, to late stage and decommissioning.