Trashinme.com, the portal to the meeting ground of trash removers and trash removal service seekers. It helps people to find the trash removers in their locality with ease.
Nagercoil, India - April 25, 2008 ( Earthtoys ) - C.G.Nadar, the director of Recycleinme announced the launch of their new portal, trashinme as an addition to their scrap trade. He explained TrashinME as the portal for the meeting ground of trash haulers, garbage collectors, waste removers and the Industries, Individuals those who are in need of the removal services. He also added that all the services provided in trashinme.com will be free of charge. Agreeing the fact that there are a lot of trash removal services in every corner, C.G.Nadar detailed that the use of trashinme.com will be to connect those who need trash removal services to the right trash haulers.

He also pointed out that he compiled such a portal after seeing lot of people finding difficulty in getting the right kind of trash removal service in right time. He briefed about the impacts of wastes on the environment if they are not disposed properly. He claimed that "Environment is where living things live and it's equally important to us all"
"Trashinme.com is very well designed to be user friendly to avoid confusions while browsing through the website", told Mr. C.G.Nadar of recycleinME. C.G.Nadar was glad to inform that "trashinME.com will spread its wings of services in the near future as per the customer requirements". "TrashinME.com is not developed because of any commercial interest, but purely because of public interest" C.G.Nadar said.
C.G.Nadar, the managing director of
TrashinME.com
explained that from their widest coverage in the network, customers will be able to get an immediate response for their requests of trash hauling services. Mr. C.G.Nadar also expressed his heartful thanks to the customers of recycleinME are providing their great support for six years. He added that it's a pleasure for him to introduce TrashinME.com for free to those who provided a great support to bring recycleinME.com to the top rank and also to the people who find it difficult to remove the trash.
"Americans produce about 200 million tons of trash every year. This trash not only creates huge landfills but also destroys the beauty of the area. Most of them don't properly dispose the trash because of the difficulty in finding a trash hauler. We will help them to override this difficulty. When we dispose the trash and garbage properly, we save ourselves by preserving the environment. So let's work together" Mr. C.G.Nadar said.
"TrashinME creates a meeting ground in the website for the trash haulers, garbage collectors, waste removers and those who are in need of their services".
About trashinME.com:
TrashinME.com is an offspring of recycleinME.com. TrashinME.com is a free platform where the trash removal service provider and those who are waiting for their services meet. All kinds of removal needs and the removal services offered by different companies will be available in TrashinME.com.
For more information about trashinme Visit
www.trashinme.com
Contact
C.G.Nadar
http://www.trashinme.com
4th floor, Adv. Dharmaraj Complex,
Court Road, Ngl, India.
Phone : +91-4652-230776
Phone : +91-4652-402776
###
Featured Product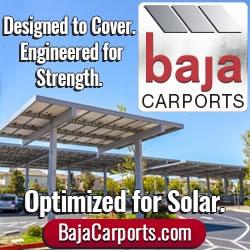 Baja Carports offers an extensive solar support system product line customized to customers' site specifications by in-house engineers, meeting their parking lot coverage, plus optimal PV production needs. Baja's Full Cantilever Tee is often paired with its Semi and Full Cantilever carports to meet live/loads up to 60psf and wind speeds to 160mph. All Baja products are pre-fabricated, bolted connections, pre-galvanized structural steel for fast on-site installation and project aesthetic requirements."