Phoenix-based company's algae-based commercial operation will produce high-grade oil for biofuel, edible oils
PHOENIX, Ariz. (May 12, 2008): XL Renewables, Inc., a Phoenix-based renewable energy innovation company focused on the development of algae biomass and integrated biorefineries, has developed a cost-effective, efficient system to grow algae biomass as a source of high-grade oil for biofuel and edible oils, and proteins for food and animal feed. In large-scale commercial applications, algae biomass could circumvent and relieve the food-for-fuel controversy.

"The emergence of algae biomass as a renewable source of vegetable oils, proteins and carbohydrates is what our world needs today to lower the demand pressures on corn and soybeans," said XL Renewables President and Chief Operating Officer Ben Cloud. "Algae biomass can produce substantially more volume per acre than any other crop and meet the increasing demand for renewable energy and food. Algae biomass has the potential to add significant volumes of oils, proteins and carbohydrates to world markets for energy and food."
The patent-pending XL Super Trough has been developed at the XL Renewables Algae Development Center in Casa Grande, Arizona where a 40-acre commercial production site will open to the public this November for the sale of algae products and production system components.
The XL Super Trough will enable algae biomass producers to extract three primary products from the algae:
• high-grade oil for biofuel production,
• fatty acids for omega and edible oils, and
• animal feed high in protein.
"The system is simple and productive and built around one key component: the Super Trough liner that provides integrated aeration and lighting systems to optimize algae biomass production," Cloud said. "This hybrid can be operated as an open or closed system."
To speed the worldwide development of algae biomass production, XL Renewables will begin delivering system components to customers by January 1, 2009.
"We believe there are many researchers, farmers and entrepreneurs who have the land resources, management expertise, labor and capital to begin their own algae production efforts using the XL Super Trough Liner as a key tool in their production efforts," Cloud said.
The company also is planning to develop a 400-acre algae farm and processing facility in Western Arizona in 2009 where more than 20,000 tons of biomass will be produced and processed. The company has more than 2,400 acres to expand production in coming years.
"Using very conservative projections, we need yields of 15 tons per acre to be profitable, however we believe yields of 50 to 100 tons per acre per year are possible at a commercial scale." Cloud said.
Installation costs are below $25,000 per acre compared with competing systems that cost from $80,000 to $125,000 per acre with higher operating and maintenance costs, Cloud said.
The XL Super Trough uses a miniature greenhouse-type process to produce the algae in laser-leveled 18-inch deep, 1,250-foot long troughs. Mechanized equipment will install the specially designed plastic liner sheets with integrated aeration and lighting systems along the six-foot wide troughs. Depending upon need and customer demand, a plastic sheet called "mulch" can be installed on top of the trough to make it a closed system and increase algae production during cooler temperatures.
"The XL Super Trough has no moving parts and no connection points except at the end of the troughs," Cloud said. "The water used in the process, which will be fortified to enhance production, will be pumped through the troughs and through a harvest system where the algae will be extracted. The water will then be recycled back into the troughs.
"We have focused on algae as a feedstock for biofuels production for the last three years," Cloud said. "Based on the data produced at our research and development facility in Casa Grande, we're ready to move to a commercial-scale operation. The ability to rapidly expand production of algae biomass provides an ideal source of vegetable oil for biodiesel production, Omega 3 fatty acids to offset the dwindling supply from fish, and a high quality protein source for human and animal nutrition."
XL Renewables is a Phoenix-based, locally founded privately held company.
For more information, visit www.xlrenewables.com.
Featured Product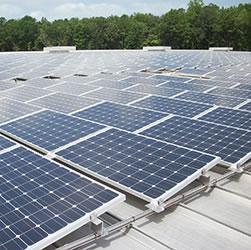 The Power Rail™ Commercial Mounting System is designed with the professional PV solar installer in mind. Both the XD/UD and LD/MD rails feature single tool assembly with the revolutionary patented RAD™ Lock-in-Place bolt for fast and secure module clamping. The high strength marine-grade aluminum rails include an integral wiring channel for securing cables and providing a professional finish.