Powerful internet marketing tools, premium solar domain names have been reported being circulated to marketing groups representing solar companies and other domain name speculators.
The price of domain names has shot through the roof, and many experts are stating that sometimes a company's domain names are worth more than the company's commercial assets.

Solar domain names, being released by professional domain consultant Stephen Douglas, of Successclick.com, are among the most sought after domain names, in anticipation of the gold rush of solar products, services and other trends in the solar fields.
The portfolio features over 300 premium generic descriptive domain names, and their value is expected to reach beyond $1.5 million in the sale. Douglas also said he would probably allow solar energy companies to "cherry pick" domain names from the portfolio to meet their specific marketing targets.
Last month, Pizza.com sold for $2.5 million and Fund.com sold for $10 million.
Douglas stated that it's becoming more clear to the medium-sized companies that domain names are a necessity as an "appreciable marketing asset", and they're beginning to follow in the footsteps of the Fortune 100 companies such as Barnes & Nobles (owners of Books.com and Book.com) and Johnson & Johnson (owners of Baby.com).
"You can spend $100,000 on an ad campaign in any standard marketing media, such as TV, print or radio, and in one month, that money is spent and gone. Or you can buy several keyword domain names that you can own forever for $10 a year that bring you hundreds or thousands of customers online, 24/7, and they appreciate in value as your product advances in the market."
You can contact Successclick.com for further information.
Featured Product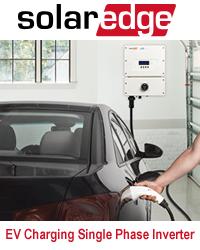 The SolarEdge PV inverter combines sophisticated digital control technology with efficient power conversion architecture to achieve superior solar power harvesting and best-in-class reliability. The fixed-voltage technology ensures the solar inverter is always working at its optimal input voltage over a wider range of string lengths and regardless of environmental conditions. A proprietary data monitoring receiver has been integrated into the inverter and aggregates the power optimizer performance data from each PV module. This data can be transmitted to the web and accessed via the SolarEdge Monitoring Portal for performance analysis, fault detection and troubleshooting of PV systems.