Floating Panel Innovation Equipped with Sharp Solar Photovoltaic Panels; Array Installed by SPG Solar Saves Valuable Vineyard Acreage
Floating Panel Innovation Equipped with Sharp Solar Photovoltaic Panels;

Array Installed by SPG Solar Saves Valuable Vineyard Acreage
OAKVILLE & HUNTINGTON BEACH, Calif., MAY 29, 2008- Napa Valley wine producer Far Niente has gone live with its 'Floatovoltaic'' solar array. The Floatovoltaic installation, developed by Thompson Technology Industries, Inc. (TTI), creatively couples solar power with water, saving valuable vineyard acreage from being sacrificed for land-mounted arrays; this innovative solar system was installed by SPG Solar, using solar panels from Sharp, a world leader in solar electricity.
Far Niente's Floatovoltaic system involved securing nearly 1,000 Sharp solar panels on pontoons, then floating the pontoons on the winery's vineyard irrigation pond. Combined with a section of another 1,300 panels located on land adjacent to the pond, the array is generating 400 kWs at peak output, significantly offsetting the winery's annual power usage and provide a net-zero energy bill.
"Napa Valley is making tremendous strides in its efforts to achieve sustainability," said Ron Kenedi, vice president of Sharp Solar Energy Solutions Group, the U.S. solar arm of Sharp. "By adopting clean, reliable and renewable solar power, Far Niente is making a commitment to the long term sustainability of this magnificent region."
The conversion to solar is part of Far Niente's collective movement toward 'conscientious luxury,' an integrated program enabling the production of luxury wines through sustainable measures affecting vineyard, winery and day-to-day business practices. While solar is the centerpiece, complementary practices include sustainable and organic farming, powering farming vehicles with biodiesel fuels, recycling, the use of hybrid company vehicles and other environmentally responsible measures. "We will always be committed first and foremost to producing great wines; it's what we've been doing for over 25 years," said Larry Maguire, president and CEO of Far Niente Winery. "Yet, we recognize that our environment is facing significant challenges, and as an agriculture-based business we have an obligation to do our part and take sustainable measures where possible."
Far Niente and sister winery, Nickel & Nickel, join a small, but quickly growing contingent of Napa Valley wineries who are adopting solar power at a rate estimated to be more than 40 times faster than California businesses in general, according to Dan Thompson of Novato, CA-based SPG Solar, the system integrator who developed and installed the wineries' solar systems.
The Far Niente solar array is located in the 100-acre Martin Stelling Vineyard, which is the cornerstone of the winery's Cabernet Sauvignon program and is located directly behind the winery. About one acre of vineyard was removed to accommodate the land-mounted portion of the system, but the floating array's positioning on the pond saved another three-quarters of an acre of valuable Cabernet vines.
About Far Niente
Far Niente was founded in Oakville, CA in 1885 and prospered until the onset of Prohibition in 1919, when the winery was abandoned. Oklahomans Gil and Beth Nickel revived the winery in 1979, restoring the estate to its original grandeur. Far Niente introduced sister wineries, Dolce, devoted to producing a single, late harvest wine, in 1989, and single-vineyard specialist Nickel & Nickel in 1997. Today the Nickel family, along with partners Larry Maguire and Dirk Hampson, remain keenly involved in the wineries, ensuring the businesses will remain independent and family owned for years to come.
About Sharp Solar Energy Solutions Group
Sharp's Solar Energy Solutions Group, based in Huntington Beach, California, is a unit of Sharp Electronics Corporation, the U.S. subsidiary of Sharp Corporation, Osaka, Japan. Sharp is a world market leader in solar cell production, and offers both standard and integrated roof modules for home and business applications. Sharp also is the U.S. market leader and maintains solar panel assembly operations at its manufacturing facility in Memphis, Tennessee. The solar manufacturing facility assembles a variety of panels for residential and commercial installations.
Further information on Sharp's commitment to solar energy, its product line and the ways in which Sharp makes it easy to go solar is available online at www.solar.sharpusa.com
.

###

Sharp Electronics Corporation is the U.S. subsidiary of Japan's Sharp Corporation, a worldwide developer of one-of-a-kind home entertainment products, appliances, networked multifunctional office solutions, solar energy solutions and mobile communication and information tools. Leading brands include AQUOS® Liquid Crystal Televisions, 1-Bit' digital audio products, SharpVision® projection products, Insight® Microwave Drawer® appliances, and Notevision® multimedia projectors. For more information visit Sharp Electronics Corporation at www.sharpusa.com.


Featured Product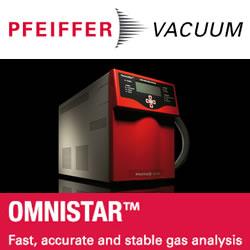 The Pfeiffer Vacuum OmniStar benchtop analysis system offers you a compact footprint, powerful software and Ethernet connectivity. It's the optimum solution for many real-time gas analysis applications. With the OmniStar, Pfeiffer Vacuum offers you a complete solution for gas analysis, in chemical processes, semiconductor industry, metallurgy, fermentation, catalysis, laser technology and environmental analysis. The turnkey OmniStar gas analysis system consists of heated, temperature-regulated gas inlet system, Quadrupole mass spectrometer, a dry diaphragm vacuum pump and HiPace turbopump. Unlike competing methods such as FTIR, OmniStar is suitable for qualitative and quantitative analysis of most gases.