Collaboration Announced with Leading Spanish Construction Company
Calgary, Alberta - May 27, 2008 - Sustainable Energy Technologies Ltd. (TSXV:STG), ("the Company" or "Sustainable") announced today that it will collaborate with Spanish construction and energy giant: Copcisa Corp, to develop and market a massively parallel thin film PV solution for industrial rooftops and building integrated applications in Spain.

Under a recently signed agreement with ISTEM SLU (a member of the Copcisa Industrial group, the construction division of Copcisa Corp), Sustainable and ISTEM will each contribute to developing a bundle consisting of thin film PV modules, extra low voltage inverters, racking and wiring for rooftop and building integrated solar PV systems. The PV modules will be arranged in a massively parallel array, so that each module performs optimally and independently of the other PV modules in the string.
It is intended that the bundle will be marketed exclusively in Spain by a joint venture or corporation owned and controlled equally by Sustainable and one of the companies within the Copcisa Industrial Group. Under Spanish law, all new industrial commercial and institutional buildings must incorporate solar power into the building design.
"Thin film PV offers a substantially lower cost per watt solution than conventional crystalline PV," said Michael Carten President & CEO of Sustainable Energy. "Our goal is to further reduce the cost per watt by delivering a massively parallel bundle, which improves total system performance, and enables 100% area coverage, with reduced installation costs. This is only possible with an extra low voltage inverter like Sustainable's".
About Copcisa Industrial: Copcisa Industrial SLU is the division of Copcisa Corp. (www.copcisacorp.com) focusing on construction, public-private partnerships, private finance initiatives and engineering services. Copcisa Corp is a private corporation headquartered in Barcelona, Spain.
About Sustainable Energy: Based in Calgary Alberta, Sustainable (www.sustainableenergy.com) Energy Technologies designs and manufactures and distributes power inverters for distributed alternative energy applications, including solar PV and small wind power systems and energy storage systems, such as batteries and stationary fuel cells.
Featured Product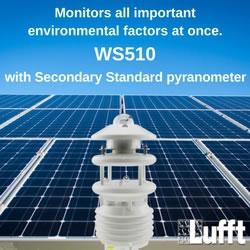 Professional weather sensors form the heart of large solar plants supporting their operation and performance. Lufft was the first manufacturer to combine several sensors in one housing, bringing the largest multiparameter weather sensor family with 19 members into being. Many of them are well-suited for solar site assessment and continuous monitoring. The most commonly used one is the WS600 delivering data on temperature, air pressure, wind, relative humidity and precipitation. Through its open protocol, it can easily be attached to radiation sensors e.g. from Kipp&Zonen. Other models have an integrated Silicon, Second Class or Secondary Standard radiation sensor.