United States consumes four times the level of renewable energies as Canada.
Consumption of non-hydro renewables in Canada was 1% of the country's total energy in 2005, according to latest data from the U.S. Energy Information Administration.

Canada consumed 14.3 quadrillion Btu, of which oil was 33%, natural gas 25%, hydroelectricity 25%, coal 9%, nuclear 7% and 'other renewables' was 1% (includes solar, wind, tidal, geothermal, solid biomass & animal products, biomass gas & liquids, industrial & municipal wastes).
Comparable EIA data for the United States (2007 figures) says non-hydro renewables accounted for 4.3% of its energy consumption.
Featured Product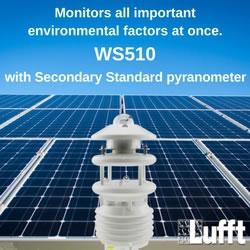 Professional weather sensors form the heart of large solar plants supporting their operation and performance. Lufft was the first manufacturer to combine several sensors in one housing, bringing the largest multiparameter weather sensor family with 19 members into being. Many of them are well-suited for solar site assessment and continuous monitoring. The most commonly used one is the WS600 delivering data on temperature, air pressure, wind, relative humidity and precipitation. Through its open protocol, it can easily be attached to radiation sensors e.g. from Kipp&Zonen. Other models have an integrated Silicon, Second Class or Secondary Standard radiation sensor.