Vista, CA  Blue Sky Energy, Inc., a leading manufacturer of photovoltaic (PV) battery charge controllers has received ETL/cETL listing to UL1741 - CAN/CSA E60335-1/2E, and CE Label certification for it's Solar Boost 3024iL.
In addition to the ETL/cETL listing and CE / FCC certification, the new listed version of Solar Boost 3024i Maximum Power Point Tracking charge controller also increases current rating from 30A to 40A for 12V systems. Current rating remains at 30A for 24V systems.

According to Richard A. Cullen of Blue Sky Energy, "The increase in output current rating to 40A for 12V systems will provide 33% more power handling capability compared to the previous 3024i. The product will now process up to 540 watts of PV for 12V systems after NEC 1.25 derating. The new 3024iL retains Blue Sky Energy's Integrated Power Network (IPN) technology which allows multiple controllers to communicate with each other and charge the battery as a single coordinated machine while sharing a common display and temperature sensor. The ability to grow smaller systems into larger systems and have the system as a whole operate as a single unit will be a definite advantage compared to what is available on the market today."
The Solar Boost 3024iL charge controller includes flexible dusk-to-dawn lighting control, 20A LVD load control, and 2A auxiliary battery charge capability. It can also charge 12V batteries from 24V PV modules. The product is ideal for small to medium size off grid PV applications including cabins, telecom, lighting, light industrial and RV/Marine. Order listed version product as part numbers SB3024iL and SB3024DiL.
Blue Sky Energy designs and manufacturers quality MPPT charge controllers for 12, 24 and 48V applications. Product is sold through a variety of dealers and distributors throughout the US, Canada, and renewable energy companies internationally. Contact Blue Sky Energy, Inc. @ 760-597-1642, 800-493-7877 or visit us on the web at www.blueskyenergyinc.com.
Featured Product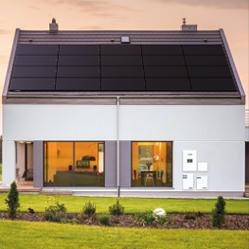 The Q.Home+ ESS HYB-G1 energy storage solution offers scalable storage capacity from 4.5 kWh up to 18.9 kWh and comes in a modular design for easy and fast installation. The system is offered in both DC-coupled and AC-coupled configurations and can connect up to 3 batteries in series using only one inverter and battery management system (BMS). The system includes an integrated backup power function for 100% of the rated inverter output to support critical loads in the event of power failure and offers remote monitoring using the QHOME+ web portal or QHOME+ ESS mobile app.