Tax Incentives Must Trump Politics
Washington, D.C., June 10, 2008 - "In a seemingly Sisyphean exercise, Congress has failed - yet again - to move closer to enactment of a package of energy-efficiency tax incentives that could bring much-needed help to American consumers and businesses reeling from spiraling energy costs," said Alliance to Save Energy President Kateri Callahan.

"The Senate's failure today to move forward on energy-efficiency and clean-energy tax incentives that enjoy broad, bipartisan support and could boost the sagging economy comes - sadly and ironically - on the same day that the U.S. Energy Information Administration (EIA) has once again raised its projections for home energy and gasoline costs for American families," Callahan added. (Based on the EIA June Short-Term Energy Outlook, the Alliance projects average U.S. household energy expenditures in 2008 at $6,300, which represents fully 12 percent of the 2008 U.S. real household income ($51,360) estimated by the U.S. Census Bureau.)
Callahan concluded, "Between the two chambers of Congress, bills extending and expanding energy-efficiency and clean-energy tax incentives have been approved more than a half dozen times in the past several months, even as many of these incentives have lapsed and the 'clock is ticking fast' toward the sunset of the rest. Our federal leaders must now put the American people ahead of partisan politics and resolve differences on whether and how these critical incentives are to be offset, so that all Americans can benefit from their economic and environmental promise."
For further information:
Ronnie Kweller: 202-530-2203 (office); rkweller@ase.org
~~~~~
The Alliance to Save Energy is a coalition of prominent business, government, environmental, and consumer leaders who promote the efficient and clean use of energy worldwide to benefit consumers, the environment, economy, and national security.
Featured Product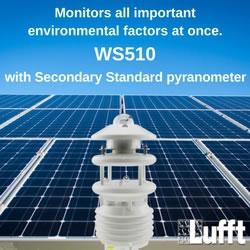 First and only Smart Weather Sensor with integrated Kipp & Zonen CMP10 Pyranometer (secondary standard). From the WS product family of professional intelligent measurement transducers with digital interface for environmental applications. Integrated design with ventilated radiation protection for measuring: Air temperature, relative humidity, air pressure, wind direction, wind speed and radiation. One external temperature or rain sensor is connectable.