A Weeklong Roadshow with Top Speakers from the U.S. and Germany at Four Different Midwestern Locations, Organized by the German American Chamber of Commerce of the Midwest (GACCoM) and its Local Chapters
Germany's advanced technology and the high demand for renewable energies and energy efficiency in the U.S. is a perfect basis for transatlantic cooperation. With rising oil prices, increasing energy costs, and climate change, the renewable energy and energy efficiency sector captured everyone's awareness and has an enormous effect on our lives to come. Hence, the primary objective of the conference is to open and expand a dialog for partnership between two of the world's leading countries in developing and implementing new renewable and energy efficient technologies.

June 23rd Cincinnati, Ohio: Kings Gate Marriott, 151 Goodman Drive, 1:00 pm - 6:00 pm
• Energy Efficiency in Industry (Panel1)
• BioEnergy/Carbon Sequestration (Panel 2)
June 24th Detroit, Michigan: NextEnergy, 461 Burroughs, 1:00 pm - 6:00 pm
• Supply Chains in the Renewable Energy Industry (Panel 1)
• Energy Efficiency in Industry (Panel 2)
June 25th Chicago, Illinois: 111 South Wacker Dr., 1:00 pm - 6:00 pm
• Sustainable Development & Commercial Architecture (Panel 2)
• Energy Efficient Architecture, Residential & Commercial Energy (Panel 1)
June 26th Minneapolis, Minnesota: University of St. Thomas, Opus College of Business, 1:00 pm - 6:00 pm
• Wind Energy (Panel 1)
• BioEnergy (Panel 2)
Keynote speakers during the Roadshow include Dr. Konrad Bauer, Project Director Renewable Energies, German Energy Agency who will be presenting at every stop of the Roadshow. Dr. Bauer will highlight Germany's leading position in the fields of renewable energies with a special emphasis on the country's progressive public policy in that sector. Over there, the government's incentives helped Germany to install the most solar, wind and biogas capacity in the world, which created more than 300,000 green collar jobs in the last few years.
Keynote speaker Dr. Subhendu Guha, Chairman of United Solar Ovonic, will talk about Michigan's outstanding enterprise in the renewable energy sector. As Chairman of one of the leading manufacturers in solar laminate products, Dr. Guha will give an insight into the development of green-built plants. United Solar Ovonic recently announced that it will double its workforce and hire another 400 workers and complete its expansion by 2010.
The keynote speaker at the Chicago stop is Dr. Michael Walsh, Senior Vice President of the Chicago Climate Exchange, who will put particular emphasis on the coming need for cleaner energies and possible emission trading legislation, as well as what we can learn from Europe's experiences implementing cap and trade systems for emission reduction. He will discuss what impact and opportunities this will have for US companies.
Keynote speaker Gene Hugoson, Commissioner at the Minnesota Department of Agriculture, will focus on Minnesota's leading position as the 1st state mandating biodiesel blending and as a leader in establishing renewable portfolio standards for renewable sources of electricity. Minnesota is also No. 3 state for installed wind capacity in the U.S., helping the U.S. in becoming the No. 2 wind energy producer in the world, right after Germany. With the wind energy boom, the U.S. may become the world leader in 2008.
Panel presenters include Scott Hibbard, Vice President Technology at Bosch Rexroth, Mike Dergis, Principal at Roland Berger Strategy Consultants, and Phil Baugh, Director of Community Development for Green Exchange, the country's largest sustainable business community.
For more information on each stop of the Roadshow and for those interested in attending one or more events, please visit www.gaccom.org. Registration Deadline is Friday, June 17th.
SPECIAL INSTRUCTIONS FOR NEWS MEDIA: If you would like more information on the Roadshow or if you would like to schedule an interview with any of the speakers or panelists, please contact Janka Pieper, Manager, Public Relations & Communications, at pieper@gaccom.org or call 312-494-2162.
###
Featured Product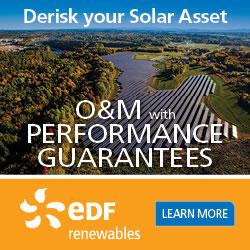 EDF Renewables offers the same innovative solutions that maximize the performance of our own 5.2 GW of installed projects. Because we're not an equipment manufacturer, our recommendations are transparent and data-driven. We cover the entire project lifecycle: from pre-commissioning support, through warranty and post warranty operation, to late stage and decommissioning.