The theme of the Expo Zaragoza 2008 is "Water and Sustainable Development." With this, the expo means to highlight water as a vital resource in guaranteeing the continued survival and progress of the human race.
Have you bought your ticket for the Expo Zaragoza 2008 yet? If you have not yet done so, then maybe you should. The Expo Zaragoza 2008 is this year's International Exposition, to be held from June 14 to September 14 in the city of Zaragoza in Spain. Aside from the fact that Zaragoza itself is a good place to go to on holidays, the Expo Zaragoza 2008 itself would be a perfect time to spend a summer vacation, be it with yourself, with your family or with a few friends along.

The theme of the Expo Zaragoza 2008 is "Water and Sustainable Development." With this, the expo means to highlight water as a vital resource in guaranteeing the continued survival and progress of the human race. It also aims to bring to the fore the fact that every human being has the right to a clean water. There will be talks and discussions centering on this theme, but there will also be many other activities that will certainly make your trip to Zaragoza for the expo worthwhile.
For the musically inclined, there will be concerts and performances by many renowned artists from Spain, Europe and the United States, including Bob Dylan, who was chosen to be the official artist of the expo. Other artists slated to perform during the expo are Gloria Estefan, Alanis Morrisette, and Diana Krall.
For those who are passionate about the theater, there are scheduled performances of the hits of Broadway and samplings of the zarzuela and gigantes. For those who like to party, there will be disco nights at the amphitheater, as well as performances by well-known DJs in Europe.
Children will also enjoy going to the Expo Zaragoza 2008. The organizers of the expo have organized a series of events that are designed to entertain children and teenagers, which include puppet shows, circus performances, children's theater and others. Some of these events feature Fluvi, the official mascot of the expo.
There will also be a true Spanish-style fiesta to be held in the city to commemorate this major cultural event. The fiesta will include a parade of flowers to be dedicated to the Virgin Mary, as well as a showcase of the traditional dances and songs of Zaragoza.
But that is not all of it. The highlights of the programme are three major dramatic and multimedia shows to be staged daily by world-renowned performing companies. These are:
• Iceberg: Visual and Poetic Symphony: To be performed by the theater company FOCUS under the direction of Calixto Bieito. The show will feature an iceberg with a human being on its tip.
• Hombre Vertiente: An experimental theater performance to be repeated six times a day. Created by Pichon Baldinu, it is to be a performance that invites the participation of spectators to allow them to experience the inspiring power of water.
• The Awakening of the Serpent: This will be a daily parade to be done in the streets of the expo site by the Cirque du Soleil, complete with acrobatic and theatrical performances.
Enjoyment is a guarantee at the Expo Zaragoza 2008. No doubt that after you leave the expo grounds, you will find yourself with a renewed awareness of how vital water is to us. If you still have time, you can extend your holiday to Spain by visiting Madrid, which is only an hour's train ride away from Zaragoza.
When planning your visit to the Expo Zaragoza 2008, you will want to score great deals on accommodations and other travel perks for your holiday. Visit Go-Cielo.com to get fantastic deals to book hotels in Zaragoza for the expo.
Marcos Redondo 22, Edificio Maldivas local 1-1
Phone Number: +44 02081331529
Website: http://www.go-cielo.com/en/Spain-Espana/Zaragoza.htm
Email: marketing@go-cielo.com
Featured Product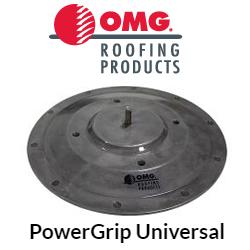 Eliminate Solar Rack Ballast and Reduce Rooftop Material Handling. PowerGrip™ Universal (PGU) is a commercial roof mount system designed to secure solar racks and other equipment to any type of commercial roofing system. PGU provides a secure connection directly to the roof deck or structural members and is designed to reduce or eliminate ballast in solar racking systems, so there's less weight on the roof and less material handling. Made of heavy-duty cast aluminum, PGU units include a base ring which is secured through the roofing cover and into the structural roof deck, and a waterproof top plate.