A New Book--Careers in Renewable Energy--Aids Job Seekers
In just a few years renewable energy has gone from a trendy niche to a national imperative. Today thousands of employers in dozens of sectors are looking for employees.

But even though opportunities abound, unearthing them has been a challenge. Now in his latest book, Careers in Renewable Energy, author Gregory McNamee gives job seekers a guide to where green energy jobs can be found.
"There's no better time to learn environmentally responsible habits and put them to work in the marketplace," says McNamee. "Green jobs are plentiful and demand for green things is on the rise. New fields are emerging as a result: a few years ago, there was no such thing as someone who brokered carbon trades, for instance, and very few builders who used terms such as 'green buildings'."
From research and engineering to all manner of skilled trades, renewable energy jobs can be found, even in traditional fields of sales, customer service and project management. Solar and wind energy are the obvious industries, and several others, including bioenergy, hydrogen energy and fuel cells, geothermal energy, hydro power, green building, energy management, and green transportation, have become exciting career avenues.
Community colleges and universities are starting to offer new courses and cross-platform degrees. One such program, Life-Cycle Engineering, takes a "cradle-to-grave" approach: engineer products to leave a minimal environmental footprint.
Governor Bill Richardson of New Mexico says, "The clean energy economy is booming across the United States and around the world. Careers in Renewable Energy is a sophisticated and user-friendly guide for finding meaningful job opportunities in the renewable energy sector."
This book is equally useful for adults ready to retool their careers as well as students looking for green-collar opportunities. McNamee lists 50 schools that are leaders in renewable energy education, and includes numerous resources with each chapter for further research.
Careers in Renewable Energy: Get a Green Energy Job by Gregory McNamee is published by PixyJack Press ($20.00; ISBN 978-0-9773724-3-0; 192 pages, www.PixyJackPress.com).
Featured Product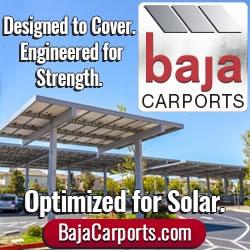 Baja Carports offers an extensive solar support system product line customized to customers' site specifications by in-house engineers, meeting their parking lot coverage, plus optimal PV production needs. Baja's Full Cantilever Tee is often paired with its Semi and Full Cantilever carports to meet live/loads up to 60psf and wind speeds to 160mph. All Baja products are pre-fabricated, bolted connections, pre-galvanized structural steel for fast on-site installation and project aesthetic requirements."