Carbon Capture Technology Recently Funded by Mantra Moves to Next Stage of Development
POINT ROBERTS, WA and DELTA, BC -June 19, 2008 www.RenewableEnergyStocks.com, a leading investor news and research portal for the renewable energy sector within Investorideas.com, presents featured showcase Mantra Venture Group Ltd. (OTCBB: MVTG and FSE: 5MV), a public company that invests in and licenses a growing portfolio of green technologies. The company has licensed two key technologies developed at well-respected University research departments.

The current portfolio of green technologies includes ERC (explained below), and "signal smoothing" which increases power efficiencies derived from wind, ocean & geothermal power. Mantra is interested in many other sustainable technologies and is investigating or negotiating some of these. An example is cellulosic ethanol: ethanol produced from wood and agricultural wastes (described below).
Mantra acquired the intellectual property for a process developed at the UBC Clean Energy Research Center (CERC) by Professor Colin Oloman (co-inventor with Dr. Hui Li) that converts carbon dioxide (CO2) into useful products. The process, ERC (electro-reduction of carbon dioxide), takes carbon dioxide and water, combined with electricity, to produce commodity chemicals which can also be used as fuel to power a specially designed fuel cell. Together, ERC and the fuel cell are a clean renewable source of power in which the CO2 can be continuously recycled. It functions like CCS (carbon capture and storage, or sequestration) by taking up human-generated CO2 and ensuring it does not add to the atmospheric overload; it therefore shares the CCS market which is projected at hundreds of billions of US dollars in time.
The company recently announced new funding of $530,000 to fund the development of the ERC technology, the next stage is optimization. The work will be conducted at Mantra's new lab facility in Richmond, BC, and will focus on construction, testing, and optimization of an advanced prototype.
"I was personally excited to see this technology funded and into the next phase of development" commented Investoideas.com owner Dawn Van Zant. "I met Professor Colin Oloman at the UBC Clean Energy Research Department in April 2007, on a tour I set up for an investment group researching investment opportunities in BC in the green space. Colin gave us an in-depth view of the benefits of ERC vs. Sequestration. He is a well-respected source in the industry and has developed a promising technology well ahead of the curve. "
Mantra has also acquired an exclusive option to a new technology, signal smoothing, developed at the University of Toronto to control electrical power developed from variable sources (e.g. wind farms, tidal, geothermal, etc.) It converts raw power into "grid standard". Signal smoothing is a substantial improvement on the existing equipment and has a large potential market.
About Mantra Venture Group Ltd. (OTCBB: MVTG-FSE: EDV 5MV): Mantra, through its group of sustainable energy, carbon reduction and consumer product subsidiaries, is active in the green technology marketplace with an innovative, multi-faceted approach focused on profitability through sustainability. By aggressively seeking out new technologies and innovating solutions for a cleaner earth for everyone, Mantra intends to provide a highly profitable and environmentally responsible investment for its shareholders.
For a list of company projects: http://www.mantraenergy.com/projects/index.php
More info can be found on the Investorideas.com at the company showcase http://www.investorideas.com/CO/MVTG/ or at the company website http://www.mantraenergy.com/
About Our Green Investor Portals:
RenewableEnergyStocks.com® is one of several green investor portals within Investorideas.com and provides investors with stock news, exclusive articles and financial columnists, audio interviews, investor conferences, Blogs, and a directory of stocks.
About InvestorIdeas.com:
"One of the first online investor resources providing in-depth information on renewable energy, greentech and water sectors." InvestorIdeas.com is a leading global investor and industry research resource portal specialized in sector investing covering over thirty industry sectors and global markets including China, India, Middle East and Australia.
Disclaimer: Our sites do not make recommendations, but offer information portals to research news, articles, stock lists and recent research. Nothing on our sites should be construed as an offer or solicitation to buy or sell products or securities. We attempt to research thoroughly, but we offer no guarantees as to the accuracy of information presented. All Information relating to featured companies is sourced from public documents and/ or the company and is not the opinion of our web sites. This site is currently compensated by featured companies, news submissions and online advertising. Disclosure: Mantra Venture is a featured showcase company (program#2) for $2000 month and 150,000 restricted shares over 12 months.
www.InvestorIdeas.com/About/Disclaimer.asp
For more information contact:
Investorideas.com
Dawn Van Zant 800.665.0411
Email: dvanzant@investorideas.com,
To contact Mantra
Terry Johnston
Phone: (604) 267-3022
Email: tjohnston@mantraenergy.com
Source: RenewableEnergyStocks.com, Mantra Venture Group Ltd
Featured Product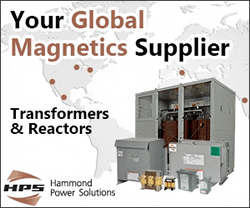 HPS is the largest manufacturer of dry-type transformers in North America. We engineer and manufacture a wide range of standard and custom transformers that are exported globally in electrical equipment and systems. We support solid industries such as oil and gas, mining, steel, waste and water treatment, and wind power generation. HPS leads the industry in these markets through its technical design strength, breadth of product, and manufacturing capabilities, making HPS a stronger company both fundamentally and financially.