Safety Technology, leading safety equipment and training provider to the Utility industry, is partnering with NaREC, to create a unique range of safety training and certification courses for the wind industry, at NaREC's facilities in Blyth, Northumberland.
In response to increasing demand from wind turbine manufactures, farm operators and owners, Safety Technology will now be offering a wide range of safety training courses for engineers and operators working on wind farms, to ensure that wind farms across Europe are operated according to strict safety standards.

Working at heights is one of the major challenges for the operation and maintenance of wind farms, with stringent construction and operation regulations in place for wind farm operators. With more and more wind energy being installed around the world, demand is high for properly trained and able engineers who can deal with the harsh environments they can sometimes face when working on wind turbines.
Servicing and constructing wind turbine components in exposed conditions, at heights of over 100 metres, can be done safely, provided that engineers know the risks and how to avoid them. There are few locations within Europe where service and construction engineers can be trained on how to work safely on a wind turbine. Safety Technology will offer a complete certification programme which will then allow trainees to work on any wind farm within Europe.
Safety Technology will be making use of NaREC's range of engineering and testing facilities for wind technology development, creating a realistic, controlled environment for trainees to learn and practice. NaREC's operations site will be used for assessments and practice, for various procedures including fire training, 'real-life' operations and escape practices. Safety Technology aims to develop a world leading centre of excellence for this kind of safety training, increasing its range of realistic training programmes as NaREC increases its facilities for wind technology.
The new training programme joins a range of equipment inspection and certification services which Safety Technology already provide in the UK and from their new centre in Murcia, Spain. NaREC was the ideal place to base a European training programme for wind health and safety, since the UK leads Europe in the development of high and strict standards for wind turbine operations.
Ben Williams, Rescue Instructor at Safety Technology said, "The Wind industry is crying out for more and more fully qualified engineers certified for safety. The courses we will offer will help our customers to quickly and confidently ensure that their employees and contractors are up to the job of working at heights."
Andrew Mill, CEO at NaREC said, "Safety Technology already has a strong track-record in providing these services to Utilities, and diversifying into the wind industry is a natural step for them. In order for the wind industry to grow - especially in offshore, these kinds of training programmes are essential. We must ensure that not only can we develop and establish innovative new energy technologies, but have the qualified supply chain in place to maintain and operate them safely in the future."
Featured Product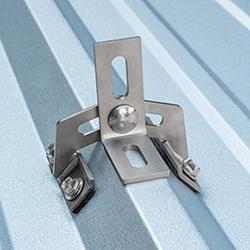 QuickBOLT Low Profile QuickBOLT with Microflashing™ is the industry's affordable, UL Certified Asphalt Shingle mounting system. The Microflashing™ is compressed by the collar on the bolt to create a water-tight seal. With an installation time of less than one minute, the Low Profile QuickBOLT allows installers to complete more jobs.