Isle of Man to make history as the world's first hi-speed clean emissions Grand Prix takes to its famous TT circuit
Isle of Man to make history as the world's first hi-speed clean emissions Grand Prix takes to its famous TT circuit

Core Facts
A new chapter in racing history begins today as the doors open to the world's first Clean Emissions Grand Prix race. The TTxGP will be held on the 101 year old legendary Isle of Man TT circuit.
The Grand Prix will provide an exciting opportunity for leading global innovators in racing and clean emission technologies to compete and prove to the world that being green does not mean being slow.
The planned TTxGP will showcase a diverse range of clean emission vehicles capable of reaching Grand Prix race speeds. Racing teams are likely to be backed by international corporations, universities and high tech institutions, all eager to prove their credentials in the brave new world of clean emission transportation.
As part of the TTxGP there will also be an 'Open' class race for innovative cottage teams who are interested in experimenting with alternative energy sources. These teams will be required to build their vehicle to a set budget using off-the-shelf power sources only.
Who: Race teams consisting of innovative engineers, speedsters and clean-tech specialists, backed by international corporations, universities and high tech institutions
What: International race to run alongside the famous Isle of Man TT races
Where: The legendary Isle of Man TT circuit
When: June 2009
Why: To establish the world's first Clean Emission Grand Prix and set the benchmark in environmentally friendly racing excellence, further demonstrating the Isle of Man's commitment to supporting scientific and technological innovation and offering the 'freedom to flourish'.
To register your interest in entering a team in the world's first Clean Emission Grand Prix, please visit www.ttxgp.com.
Quotes
Azhar Hussain, TTxGP Founder: "Although this is a radical departure from conventional racing, the TTxGP is a stand alone race and a concept which encapsulates the spirit of the traditional Isle of Man TT. We're about to make history as well as enrich the Isle of Man's racing pedigree."
John Shimmin, Minister for the Environment, Isle of Man: "The Isle of Man has a great tradition in both racing and technological innovation. Combining the world's greatest road racing circuit with state of the art clean emission technologies brings yet another fantastic first for our small but proud nation."
Simon Maddison, Technical Director of TTxGP and Fellow of the Institute of Engineering and Technology: "The TTxGP is an enormously exciting prospect from an engineering perspective. It comes at a time when we are reaching a tipping point in the search for and acceptance of alternative energy sources. The TTxGP provides a fantastic way of promoting and popularising these new technologies, serving to inspire young engineering professionals to turn their skills to tackling the pressing energy issues of the modern world."
Peter Hindley, Isle of Man resident, Engineer and Manx Grand Prix racer: "This is a great opportunity for the Isle of Man and for racing engineers from across the globe, keen to be forerunners in something completely new. The Isle of Man TT circuit has witnessed some of the most thrilling episodes in motor racing - it only seems right that it debuts this new chapter in racing history. As a proud Isle of Man resident and engineer I would love to put a team together to develop and enter a machine built entirely on the island."
Paul Brandon, Course Director for Motorsport and Motorcycle Engineering, Kingston University: "Being involved in this new initiative will allow us to continue exploring the viability of ultra low emission vehicles. Designing a solution for a course as demanding the Isle of Man TT circuit will further increase the impetus to bring cost effective, clean transport technologies to the general public."
"We are delighted to be involved at this stage and to fully support the initiative."
This social media news release can be viewed at:-
http://blogit.webitpr.com/?ReleaseID=9137
Content Available Includes:
Images
Video
Relevant Links
Featured Product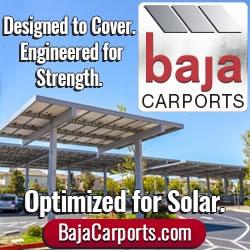 Baja Carports offers an extensive solar support system product line customized to customers' site specifications by in-house engineers, meeting their parking lot coverage, plus optimal PV production needs. Baja's Full Cantilever Tee is often paired with its Semi and Full Cantilever carports to meet live/loads up to 60psf and wind speeds to 160mph. All Baja products are pre-fabricated, bolted connections, pre-galvanized structural steel for fast on-site installation and project aesthetic requirements."