Make a difference today and design a graphic insert for any UniKeep Binder(TM), Disc Wallet or HiDef Case from July 1 through September 30 to Win a Cash Prize!
Make a difference today and design a graphic insert for any UniKeep Binder(TM), Disc Wallet or HiDef Case from July 1 through September 30 to Win a Cash Prize!

Marysville, OH -- June 30, 2008 -- UniKeep LLC, a Univenture company, announced "Eco-Friendly" as the third quarter Bonus Category theme for its "Fifth Annual UniKeep Design Awards Contest." Entrants can design UniKeep eco-friendly HiDef Case, Disc Wallet and Binder graphic inserts for organizing fuel and energy consumption records, craft materials, eco-travel documents and photos, organic gardening ideas, seed packets, music, videos, and more. The "Eco-Friendly" Bonus Category begins July 1, 2008 and ends September 30, 2008. Each quarter will have a different theme, with upcoming topics to be announced on the company's website.
"Our mission for over 20 years has been to provide environmentally responsible products. The 'Eco-Friendly" Bonus Category provides graphic designers with an opportunity to design graphic inserts for UniKeep's archival storage organizing products, promote responsible consumption and potentially win a cash prize," said Ross Youngs, CEO of UniKeep, and inventor of the UniKeep binder. "Our eco-friendly organizing products are an ideal canvas for designers to deliver a "green" message," added Youngs.
Sponsors for the Fifth Annual UniKeep Design Awards Contest are Scrapbooking & Beyond and Create & Decorate magazines. Judges for the contest are Jane Guthrie, Editor of Scrapbooking & Beyond, Natalie Rhinesmith, Technology Features Editor for All American Crafts, and Judi Kauffman, nationally known designer, writer and teacher.
The contest offers the opportunity to win cash and prizes for entering creative, original designs with copyright-free content authorized for public use. Designs may be entered for any size of UniKeep's eco-friendly View Case Binder' and HiDef Cases. A video with contest and how-to information, can be seen at: http://www.youtube.com/watch?v=J_Od2B1ROF0
The Bonus Category will change, and be judged, quarterly with bonus category winners also eligible to win monthly cash prizes for one of the five categories. The monthly award will be $100 to each category winner and $500 to each quarterly bonus category winner. The first 50 entries each month also receive an EnviroBinder' with their artwork inserted.
Links to entries will be posted in the UniKeep 2008 Gallery for the public to access for personal use only. At the end of the contest, $500 will be awarded to each overall "Best of Category" and $1,500 will be awarded as the Grand Prize to the overall "Best of Show". No purchase is necessary. For complete rules and information visit http://www.unikeep.com/awards.
About UniKeep
Headquartered in Marysville, Ohio, UniKeep, a Univenture company, has won numerous awards and rave reviews for product design, high quality printing and creative customer solutions. The polypropylene products require 30% fewer materials to manufacture than traditional vinyl and avoid the toxic waste generated in both the manufacture and elimination of PVC. EcoEndure' environmentally responsible products allow UniKeep to offer many of its standard products manufactured from a variety of alternative green materials. The standard UniKeep binder is the only binder that is truly curbside recyclable and the EnviroBinder is manufactured with up to 85% recycled content. These products are available nationwide through office products or promotional products dealers.
For additional information, call toll free (800) 829-8117, write marketing@unikeep.com or visit http://www.unikeep.com.
-30-
Press Contact:
Doris Emich
Antarra Communications
856-626-0190
demich@antarra.com
Corporate Contact:
Johanna Espinosa
Marketing Director
(937) 645-4617
jespinosa@univenture.com
Create & Decorate Magazine Contact:
www.createanddecorate.com
Scrapbooking & Beyond Magazine Contact:
www.scrapbookingandbeyondmag.com
(c) 2008 UniKeep, LLC. All rights reserved. Specifications are subject to change without notice. All other trademarks are the property of their respective companies.
The designer/contest entrant must own the copyright for all content. No copyright infringement. All work must be released for individual usage or purpose usage grants. All entries must contain copyright-free art or art released for entrant's and public use. No unauthorized use of any copyrighted images, text or other material will be accepted, and if copyrighted material is posted without release from copyright owner it will be removed when requested by the copyright owner and not eligible for any award.
Featured Product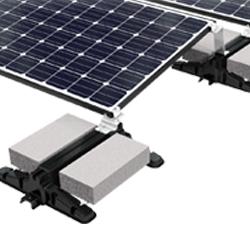 Preformed Line Products introduces the POWER MAX Ballasted Roof Mounting System. The POWER MAX solar mounting system is engineered to maximize energy output on commercial flat roofs. Developed with the professional installer in mind, this system offers adjustable inter-row spacing in the field of up to 11 inches. It features 50% fewer components and a simplified design resulting in faster assembly rates and labor savings on every project. Available in a flush mount, 5˚ or 10˚ tilt or higher density dual tilt design, the POWER MAX base arrives stacked on pallets providing easier transport to the roof. Engineered as a fully ballasted, non-penetrating system, it accepts standard concrete blocks and is qualified by wind tunnel testing.