UK and Floridian innovators to share best practice on low carbon initiatives on either side of the Atlantic
Birmingham, 3rd July, 2008… Today Enterprise Florida joins Advantage West Midlands and independent law firm Martineau to announce a one-day conference and networking event being held on Monday, 14th July to discuss opportunities for collaboration between Florida and the UK in building a low carbon economy and environment. A delegation of leading Florida academics, R&D experts and environmental policymakers will join their UK counterparts for a series of informational presentations on clean energy, followed by lunch and break out networking sessions.

Hosted by Martineau, the event will feature a presentation by Simon Slater, Head of Climate Change for Advantage West Midlands about the low carbon landscape in the West Midlands. This will be followed by an overview of Florida's effort to tackle climate change, which will be delivered by Stephen Adams, Head of the Florida Energy and Climate Commission, Office of the Governor.
WHAT: Driving the low carbon economy: a conference and networking event for Floridian and UK environmental innovators
WHEN: 11:00 a.m. - 3:00 p.m.
WHERE: Offices of Martineau
No. 1 Colmore Square
Birmingham
B4 6AA
WHO: Press and industry guests welcome
The event will feature networking sessions, which will divide participants into various groups dependent upon the specific area of clean energy on which they focus. These include:
• BioEnergy
• Hydrogen/fuel cells
• Building materials/solar
• Water
• Ocean
Florida is an influential US state and a leader in low carbon policy amongst the Southeastern United States. The programme aims to offer the UK and Florida's low carbon industries opportunities for mutual technology development and sharing best practice, by fostering collaboration on both R&D and commercial development. Parties interested in attending this conference are encouraged to contact Sue Glanville/Maita Soukup on 020 8971 6423/6421 or email sglanville@saycomms.co.uk / msoukup@saycomms.co.uk.
Featured Product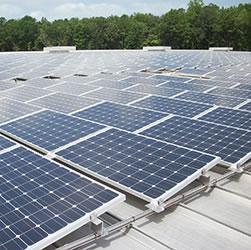 The Power Rail™ Commercial Mounting System is designed with the professional PV solar installer in mind. Both the XD/UD and LD/MD rails feature single tool assembly with the revolutionary patented RAD™ Lock-in-Place bolt for fast and secure module clamping. The high strength marine-grade aluminum rails include an integral wiring channel for securing cables and providing a professional finish.