Clean Energy Information Service Provider will Present, Exhibit and Conduct Training Sessions at San Francisco Solar Conference
SAN JOSE, Calif. - July 8, 2008 - Attendees of Intersolar North America 2008 will have the opportunity to learn about both existing and new capabilities available from Fat Spaniel Technologies, the market leader in monitoring and reporting services for distributed renewable energy systems. At the event, the company will showcase its growing suite of services delivering energy intelligence to integrators, PPA service providers, utilities, OEMs and energy end-users at more than 1,500 sites worldwide.

Intersolar North America, the largest U.S. trade event serving the complete solar energy supply chain, will be held from July 15-17 at San Francisco's Moscone Center. Conference participants can find out more about Fat Spaniel's clean energy monitoring services by:
• Visiting the Fat Spaniel booth: #9216 in the exhibit hall
• Attending one of five free half-day Fat Spaniel technical training sessions being held at the nearby San Francisco State University campus in Room 555 on the Fifth Floor at: 835 Market St, San Francisco. Register to attend at: https://fatspanieltraining.webex.com/mw0304l/mywebex/default.do?siteurl=fatspanieltraining&service=7
• Joining Fat Spaniel President Chris Beekhuis as he discusses tools to increase return on investment for solar PPA providers during a panel entitled "Expanding Commercial Solar Installations with the Power Purchase Agreement," at the InterContinental Hotel, Level 5, Conference Room C, at 11:15 AM on July 16.
More information about the conference is available here: http://www.intersolar.us.
About Fat Spaniel Technologies
Based in San Jose, Calif., Fat Spaniel Technologies, Inc. is the leading provider of monitoring and reporting services for distributed, renewable energy systems - enabling efficient diagnostics and maintenance, compelling web-based visualization, and valuable revenue-grade data for billing, Renewable Energy Certificate (REC) trading and performance-based incentives. Fat Spaniel acts as an independent monitoring service provider for multi-vendor systems and delivers information that is used by system owners, system installers, PPA service providers, inverter manufacturers, project financing firms, REC traders and energy utility regulatory agencies. The company specializes in renewable energy systems including grid-tied solar electric, solar water heating and small wind. Fat Spaniel products are presently deployed in over 1,500 locations in 13 countries worldwide. Fat Spaniel is funded by Chrysalix Energy, Element Partners, Ignition Partners, PCG Clean Energy & Technology Fund and Applied Ventures, LLC, the venture capital arm of Applied Materials, Inc.
Featured Product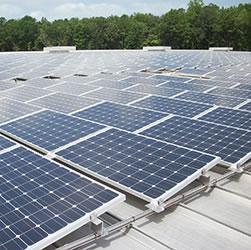 The Power Rail™ Commercial Mounting System is designed with the professional PV solar installer in mind. Both the XD/UD and LD/MD rails feature single tool assembly with the revolutionary patented RAD™ Lock-in-Place bolt for fast and secure module clamping. The high strength marine-grade aluminum rails include an integral wiring channel for securing cables and providing a professional finish.