TOLLESON, Ariz. (July 8, 2008) - SPG Solar, Inc., The Gatorade Company, a division of PepsiCo (PEP), and Salt River Project (SRP) Earthwise Solar announce the largest solar energy initiative in Arizona at the Gatorade manufacturing and distribution facility in Tolleson, Ariz.
TOLLESON, Ariz. (July 8, 2008) - SPG Solar, Inc., The Gatorade Company, a division of PepsiCo (PEP), and Salt River Project (SRP) Earthwise Solar announce the largest solar energy initiative in Arizona at the Gatorade manufacturing and distribution facility in Tolleson, Ariz. NFL Star, Arizona Cardinals Quarterback Matt Leinart also joined Arizona government officials and representatives in making the announcement.

The photovoltaic system, which will be installed by SPG Solar on the distribution center roof, is expected to produce more than 760,000 kilowatt hours per year - the equivalent amount needed to power 50 households for a calendar year and will result in an estimated carbon dioxide (CO2) reduction of 491 metric tons a year or 12,000 metric tons over 25 years. The solar panels at the 797,000 square-foot Gatorade distribution center, which houses up to 5.5 million cases at a time, will generate electricity through advanced photovoltaic devices that capture the sun's energy.
Millions of Gatorade bottles are manufactured and warehoused at the Gatorade site, which has already received Gold-level Leadership in Energy and Environmental Design (LEED) certification from the U.S. Green Building Council (USGBC) and will soon generate solar energy for the State of Arizona thanks to an incentive from SRP. PepsiCo's Gatorade business has become SRP's largest EarthWise Solar Energy commercial customer with the planned installation of a 500-kilowatt system to provide electricity to the site, which includes a manufacturing and distribution center.
"This solar energy project by the Gatorade Arizona plant is good for the environment and good for Arizona and underscores our comprehensive commitment to environmental sustainability," said Jim Lynch, senior vice president of PepsiCo Chicago. "Environmental sustainability is one of the three pillars in PepsiCo's overall sustainability vision, which we call 'Performance with Purpose."
"We are proud to be a part of PepsiCo's commitment to environmental stewardship and encourage other Valley businesses to invest in this clean energy source," said Lori Singleton, SRP Manager of Sustainable Initiatives and Technologies.
The panels are scheduled to be installed in early September and the system will begin producing power in November. The SRP incentive for this project will be $1.2 million.
"We are very pleased to support Gatorade with this project and appreciative of the program and professionalism from SRP that makes this possible," said Ed Orrett, Senior Sales Executive with SPG Solar.
PepsiCo plans to take this concept of environmental sustainability a step further by constructing new facilities that employ several alternative and renewable energy technologies to further reduce the reliance on local utility resources. PepsiCo and SPG Solar recently 'flipped the switch' on solar power at a facility in Fullerton, Calif. The facility comes "off the grid" during peak hours of 11:00 a.m. - 3:00 p.m. meaning the plant can operate independently of external electricity when there is the highest demand for electricity.
All PepsiCo divisions have active sustainability programs in the areas of water, energy and packaging - the three areas where the Company can make the biggest impact. PepsiCo's efforts have already resulted in significant resource conservation and environmental benefits.
About Gatorade
The Gatorade brand is a division of PepsiCo (NYSE: PEP). The Gatorade hydration portfolio includes the nation's leading sports drink, Gatorade® Thirst Quencher, as well as Gatorade Tiger' G2 and Propel Fit Water. Gatorade is backed by more than 40 years of research and is scientifically formulated and athletically proven to quench thirst, replace fluids and electrolytes, and provide carbohydrate energy to enhance athletic performance. Gatorade Tiger is a brand extension of Gatorade Thirst Quencher, providing the same carbohydrate energy to fuel muscles as Gatorade Thirst Quencher while containing 25 percent more electrolytes to advance fluid and electrolyte replacement. G2 is a low calorie, lifestyle beverage containing electrolytes. Propel Fit Water is a lightly flavored alternative to plain water with just 10 calories per eight ounce serving and essential vitamins. PepsiCo's overall hydration portfolio includes leadership products from the Gatorade portfolio as well as SoBe Life Water, Aquafina and Tropicana. No other beverage company helps quench thirst on more occasions and in more great-tasting ways. For more information, please visit www.gatorade.com and www.pepsico.com.
About SPG Solar, Inc.
SPG Solar, Inc. is one of the industry's leading developers, designers, and installers of solar photovoltaic (PV) systems for large-scale commercial and government facilities as well as for businesses, schools and homes. With regional facilities throughout the Western States, SPG Solar has built over 1,000 solar PV systems. Founded in 2001 in response to the nation's soaring energy prices, SPG Solar is committed to building the highest-performing solar PV systems with the highest return on investment. For more information, please visit: www.spgsolar.com.
About SRP Earthwise Solar Energy
The EarthWise Solar Energy program is designed to help reduce the cost of installing a new solar electric or solar water heating system for residential and business customers who invest in the clean, zero-emissions energy source. An incentive of $2.50 per watt is available for business customers that install solar electric systems larger than 10 kilowatts. The program determines the incentive payment to the customer based on the projected energy production of the system. This approach encourages customers and installers to invest in the most efficient products available. For more information, log onto, www.srpnet.com/solarbiz or contact Chico Hunter at SRP at chico.hunter@srpnet.com
# # #
Featured Product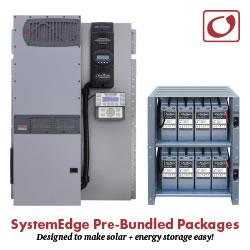 Each pre-bundled package is designed to make solar plus energy storage easy. By combining OutBack's most popular FLEXpower pre-wired systems with matched OutBack energy storage, SystemEdge takes the guesswork out of installing solar plus storage. Every SystemEdge package includes a FLEXpower factory pre-wired system, application-specific EnergyCell batteries and racking, FLEXware ICS Plus combiner and all the necessary connection hardware.