Consumes a quarter of the power of an equivalent-sized CRT TV, and a third of the power of an LCD TV.
Sharp is showcasing its upcoming range of environmentally conscious consumer electronics at the Hokkaido Tokayo G8 Summit, including an LCD TV which uses a quarter of the power of a conventional CRT TV.

The 26V-inch low power consumption LCD TV, which will be displayed at the Summit's International Media Centre [IMC], also consumes only about a third of the power of a similarly-sized conventional LCD television.
According to Sharp the television uses so little power it can even be run in areas not connected to an electricity grid, using a solar cell about the size of the television itself.
The company has been investigating the possibilities of selling the television together with a solar module, which will help the environment, allow consumers to save money on electricity, and allow Sharp to target the device to some of the approximately 1.6 billion people who live in off-grid areas world-wide.
Featured Product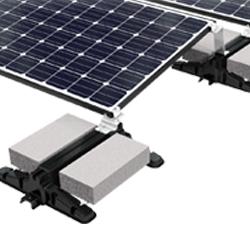 The Power Rail™ Commercial Mounting System is designed with the professional PV solar installer in mind. Both the XD/UD and LD/MD rails feature single tool assembly with the revolutionary patented RAD™ Lock-in-Place bolt for fast and secure module clamping. The high strength marine-grade aluminum rails include an integral wiring channel for securing cables and providing a professional finish.