Partner country for the RENEXPO® 2008: Czech Republic
Various European Commission regulations and a joint goal to increase overall renewable energy use to 20% by 2020 aren't the only explanations behind the growing interest in renewable energies. This year, the successful RENEXPO® trade fair from October 9-12 will present entire range of renewable energy topics - and will demonstrate just how important they are for future energy supply.

The international trade fair's focus has previously been strengthened through collaboration with a partner country. This year, the Czech Republic will assume that role.
The Czech government has come to recognize the importance of renewable energies and the passing of a green energy law in 2005 demonstrated further support for the expansion and promotion of such energy sources. Renewable energies have also given the Czech Republic the opportunity to become less dependent on energy imports. At the same time, a lack of experience in the field and a deficiency of local technology providers, skilled specialists and market information on renewable energies have created a continually increasing market potential for foreign technology in the Czech Republic.
These are just some of the many reasons why REECO is pleased to present the Czech Republic as the partner country for this year's RENEXPO®. Over recent years, the German city of Augsburg has established an international reputation as an industry meeting point. This year, the city will offer a survey of both the German and international markets at the interdisciplinary trade fair as an effective platform for knowledge exchange.
Representatives from the Federal Department of the Environment, the Department of Commerce and the Czech Energy Agency will use this international platform to gather information about cutting-edge technologies and experiences in the field.
CzechInvest has also planned a communal booth within the framework of the IBEF® International Business Exchange Forum. Czech exhibitors such as ATMOS, HYDROLINK s.r.o. and TEDOM VKS s.r.o. have already reserved booths.
The 4th International Business Exchange forum entitled "Czech Republic - Market with a Future!" will be held within the framework of the congress in conjunction with the trade fair. High-ranking representatives from the Czech environmental and energy institutes as well as public authorities will report on powerful market developments for renewable energies and energy efficiency in the Czech Republic; opportunities to establish contact with Czech companies and institutions will also be provided. The forum's focus will be the concrete need for renewable energy technologies and products with lectures held in both German and Czech.
Featured Product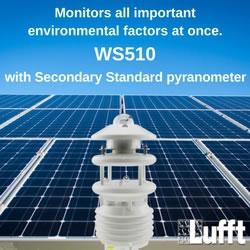 First and only Smart Weather Sensor with integrated Kipp & Zonen CMP10 Pyranometer (secondary standard). From the WS product family of professional intelligent measurement transducers with digital interface for environmental applications. Integrated design with ventilated radiation protection for measuring: Air temperature, relative humidity, air pressure, wind direction, wind speed and radiation. One external temperature or rain sensor is connectable.